Fairfield Office
Blenheim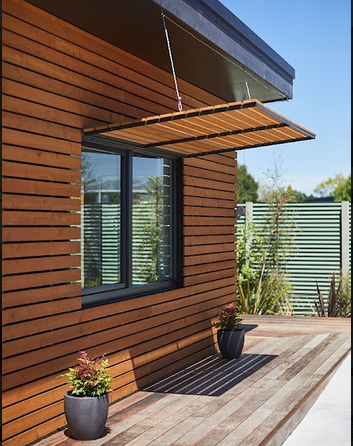 The new purpose-built office for long-established Blenheim builders, Fairfield Construction, is a certified PHI Low Energy Building. It's the first commercial building in the South Island to gain a PHI certification.
Work had begun before a decision was made to aim for Passive House performance and the concrete slab was already poured when Sustainable Engineering began the initial design work. With more underslab insulation this project would have likely hit Passive House levels of performance. In the end, the heating demand was 26.5, compared to the Passive House upper limit of 15.4 kWh/m2/a.
But achieving the exceptionally energy efficient targets set out in Passive House certification is inherently difficult for a small building, a function of the ratio of internal volume to surface area. As well as impacting heating load, the size of the build has implications for airtightness. In that context, the blower door result was an excellent accomplishment—0.68 ACH is only fractionally over the upper limit for Passive House certification.
The structural insulated panels on the ceiling have been left exposed and the ducting for the mechanical ventilation with heat recovery system is also visible. This readily conveys a much more complete understanding of how these systems work. The builders can show, not just tell how Passive House systems work: MVHR, wall insulation, reducing timber fractions and avoiding thermal bridges.
Commercial buildings, even small ones, have totally different occupancy patterns compared to a house. Fairfield Office ranges from just the two company owners working there to eight employees trooping in for the Monday morning briefing or a group of clients turning up for a lengthy meeting. A manual boost function is used to increase air flow whenever extra people are in the office, as simple as pressing a button in the bathroom. The effect is noticeable, to employees, owners and clients alike. Clients have also been impressed with how quiet it becomes inside once the windows are closed, whatever the noise outside.
Sustainable Engineering carried out three stages of work for this project (initial design, detailed design and Passive House certification) and will now undertake a carbon model. This will produce some valuable insights into the project but it's also a way for the builders to learn more about the carbon modelling process: what it looks like, its benefits and how to explain the reports and their implications to their clients.
Some well-informed clients are now seeking out Fairfield Construction because of its growing reputation for high-performance builds and it's only a matter of time before the team gets to build a certified Passive House. In the meantime, owners Mark and Katja are continuing their own learning and sharing their enthusiasm with clients and colleagues.
Passive House Metrics
Heating Demand

26.5 kWh/m2/year

Heating Load

17.7 W/m2

Frequency of Overheating

6%

TFA

47.7m2

Form Factor

4.6

Air leakage @ 50Pa

0.68 ACH/hour

PER demand

65kWh/m2/year
Passive House Database - 6632

Construction Details Average Values
U-value External Walls 

0.21 W/(m2K)(R4.7)

165mm Formance SIP, 45mm insulated service cavity, plasterboard lining

U-value Floor

0.70 W/(m2K)(R1.4)

Concrete slab with Q-pods, 30mm XPS beneath plus an insulated mowing strip around slab

U-value Roof 

0.19 W/(m2K)(R5.3)

215mm Formance SIP

U-value Glass

1.29 W/(m2K)(R0.8)

Metro Xcel (4:/16/4 90% Ar)

U-Windows

1.54 W/(m2K)(R0.6)

Klima aluclad tilt turn windows

Ventilation Efficiency

83%

Stiebel Eltron LWZ 170 E plus