ERRATA:
Corrections to the most recently published version are published below.
[23/08/2023] detail 17 "EWCE External Wall to Ceiling (Midfloor) ICF wall below, 140/45 wall above with timber midfloor": Correction of λ value of material "FibreInsulR4.0/140mm". Also amendment of thickness and λ value of insulation to outside of boundary joist to reflect accompanying detail (50mm XPS).
[May 2022] The updated BRANZ edition is now available. The slab-on-ground elements section has been revised, to synchronize with the new H1 standard. The edition published in June 21 contains R-value plots for slab-on-ground elements that are no longer acceptable for use with the current H1 requirements in the New Zealand Building Code. Please download the new edition without delay and archive or delete the earlier version. The first edition was downloaded over 6300 times, testament to its value to industry.
[June 2021] After years of gestation and a difficult labour, we are beyond relieved and as proud as any new parent to announce the arrival of the High-Performance Construction Details Handbook. It was launched at the recent PHINZ hui in Wellington to considerable excitement. Its purpose is to make the design of high-performance buildings easier and more accurate. Download a copy here.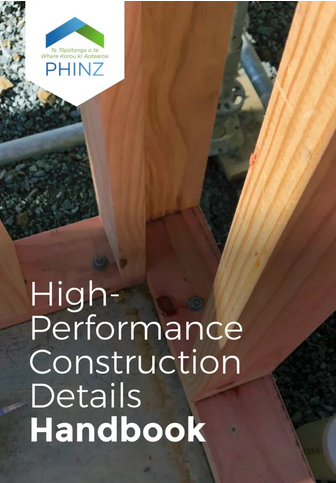 This is a highly technical compilation of details that have already been successfully used in New Zealand to produce buildings with very high thermal performance. 
In practice, these details have been drawn from certified Passive House homes. Because the Sustainable Engineering team have certified (or consulted on or energy modelled) the vast majority of New Zealand's Passive House projects, we were uniquely placed to author this work.
This book covers 18 construction elements (walls, roofs, floors) that span the range of common construction materials (and even some uncommon ones, like straw bales). As well as thermal performance data, cost and carbon figures are also provided. The second part covers the junctions between construction elements, such as floor slab on-grade to walls or window installation into a wall.
Having all this information compiled in one place will be incredibly valuable to architects, designers and Passive House designers. Until now, details have been locked up in individual consent drawings or within an architectural practice. In Wellington at the launch, it was evident even experienced Passive House designers were relishing the chance to compare their solutions with what their peers had designed.
The handbook will also assist council consenting officials as they review high-performance buildings forced to use the Alternative Solutions pathway.
In addition to the details (which are also available to download as CAD files), the version of the handbook published by PHINZ contains extensive introductions to key building physics concepts that underpin high-performance design. This includes thermal bridges, building enclosure fundamentals and fRSI.
Any production this ambitious draws on the skills of many people. PHINZ chair Elrond Burrell secured funding from the Building Research Levy and offered helpful input on several drafts. Several BRANZ staff reviewed the draft (and a version will be published as an external report by BRANZ at some future date). Lindsay Wood from Resilienz Ltd calculated the costing/carbon and David Dowdell from BRANZ reviewed the carbon accounting. 
If you were wondering, that's a two-stud corner detail shown on the cover. If you don't recognise it, you definitely ought to study this handbook.
Some double-page spreads from the book are reprinted below as examples of the content.