The team at Sustainable Engineering, New Zealand's Passive House certifiers, has designed new training to further develop expertise in designing certified Passive House homes for New Zealand
Overall course outcome
After successfully completing this course, participants will be able to efficiently follow a structured process for taking a simple, single-family home from the architectural design through Passive House design and submission for Passive House certification. It is very suited to those professionals who are preparing to work on their first or second Passive House design for a client.

Course structure
The course is designed to make it as accessible as possible for busy professionals and to remove the costs and logistics associated with travel, accommodation and a block of time off work. 
The course comprises 16 online modules and four one-on-one bespoke online coaching sessions with one of our team. The course can be undertaken at any time that suits the individual and completed at their pace (although there is a maximum time frame to keep students focused). Each module contains quizzes, homework and bonus material.  The self-directed study (i.e homework) involves each student working through the Passive House process for their own case study project in order to gain practical experience and to cement their new knowledge. 
Who is this class for?
This course is designed for graduates of the Certified Passive House Designer/Consultant (CEPH) classes with PHANZ. This course takes the theoretical groundwork taught there and provides a process and pathway for designing straightforward certified projects. 
It is also suited to people with a background in building science or physics/mechanical/structural engineering and some construction knowledge.The course will provide a bridge from that technical knowledge to confident use of PHPP for simple Passive House projects. More complex projects can be undertaken as additional experience is gained. 
In general it is expected that students will have completed the CEPH course. A demonstration of sufficient Passive House and/or building science knowledge would be required in the absence of this formal learning. The course will only briefly skim Passive House theory and its associated building science; its focus is on the practical tasks in PHPP. CEPH classes are the quickest way to acquire relevant building science knowledge.
Detailed outline 
| | | | |
| --- | --- | --- | --- |
| Class | Name | Outcomes | |
| 1 | Overview, metrics and getting started | Understand the overall structure of the class and the process of design and documentation. Know where to look for secondary criteria in the PHI Certification standard. | |
| 2 | Thermal envelope | Identify the thermal envelope and how it should be split into areas for designPH. Estimate thermal mass. | |
| 3 | SketchUp to model for PH | Import DWG files and model simple building in SketchUp and setup model to be sufficiently accurate for PHPP. | |
| 4 | SketchUp to designPH2 | Know how to add windows, including correctly setting window reveal depth and basic familiarity with shading fundamentals; define TFA; identify building footprint; select and run shading settings required. | |
| 5 | Shading | Understand what adequate shading entry in designPH means in practice. Implementation of seasonal shading. Understand easier ways to add blinds or shutters, detailed shading devices and how to run designPH for sufficiently accurate answers. | |
| 6 | U-Values – constructions | Construct multiple U-values in PHPP using database of thermal conductivities. Complete worked examples including timber-framed wall, SIP wall/roof and concrete slab floor. Understand area sheet surface conditions and groups to make PHPP easier to use. | |
| 7 | U-Values – ground sheet | Use the ground sheet for simple buildings including raft or pod slabs using equivalent thermal conductivity. | |
| 8 | Thermal bridges | Understand the difference between geometric and material thermal bridges and that thermal bridge coefficients are correction factors. Learn practical rules for avoidance of thermal bridges and how to use databases such as HPCD and manufacturers' PSI/fRSI tables/images. | |
| 9 | Windows | Extract window data from a database or PHI certificates correctly, including spacers. Practice reviewing joinery quote with checklist of common issues. Identify the fRSI location in PHPP10 worksheets and its implications. Take away checklist of data to request from joinery suppliers. | |
| 10 | Ventilation | Enter certified system. Understand the major design impacts of using non-certified systems and flex/rigid ductwork. Take away checklist for simple MVHR design. Review direct extract kitchen system impacts and example. | |
| 11 | Services | Understand typical New Zealand services for DHW, heating and cooling. Understand simple rules to reduce complaints, such as the one door rule. Enter DHW entries for a PH Classic design with margin. | |
| 12 | PER | Develop an overview of PER and how to enter simple systems on the PER sheet. Understand default heat pump inputs in PHPP and limitations of these. | |
| 13 | Drawing set review | Identify and label the control layers in different constructions. Understand the need for a constructability review and sequencing meeting with builders. Review most common locations of mistakes in thermal control layer continuity. | |
| 14 | Airtightness | Redline the air control layer on a set of plans. List common locations where issues occur. | |
| 15 | Ventilation commissioning and blower door test | Complete the ventilation protocol sheet. Understand common mistakes during commissioning. Know how to review the commissioning data on the ventilation protocol sheet and identify missing items. | |
| 16 | Certification package | Able to provide a complete and concise PH Certification submission. Understand the certification process and the need to use a submission checklist. Understand the Practical PH Designer report after project is certified. | |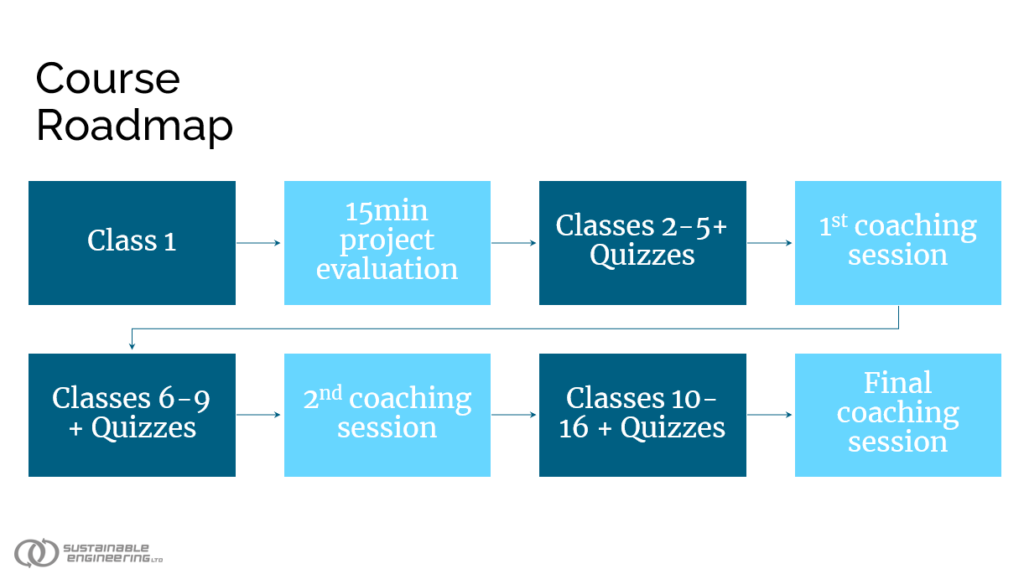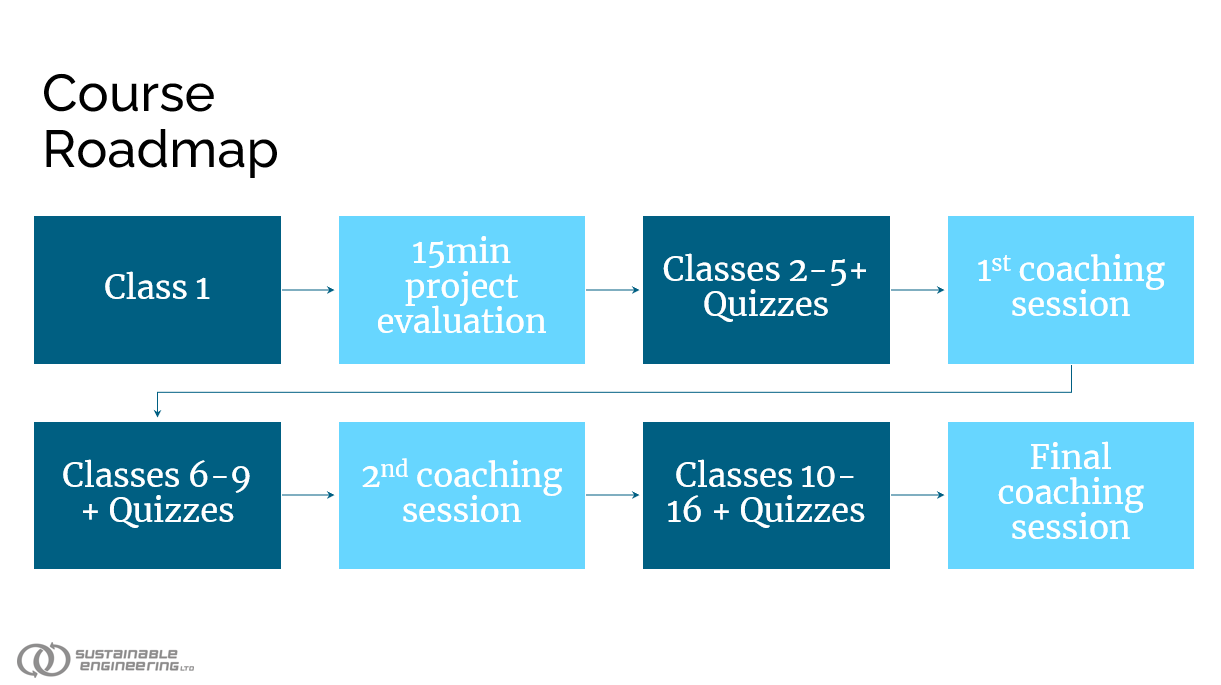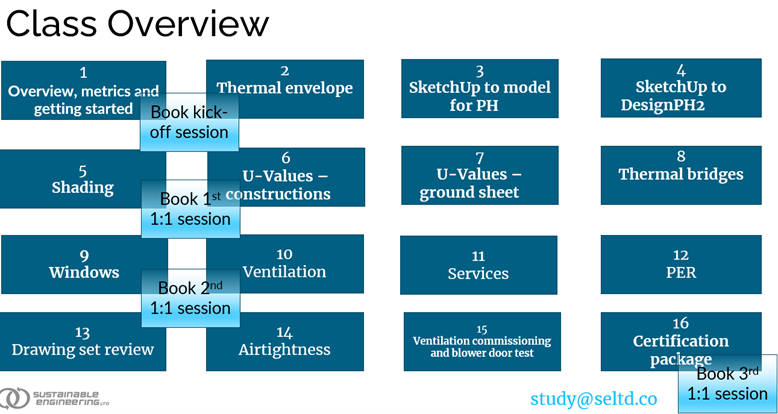 Coaching sessions are booked via a dedicated email: study@seltd.co. 
Successful completion of the course is assessed by the student's coach based on the understanding demonstrated in their Passive House case study project. 
A certificate of completion (and an optional listing on the upcoming Sustainable Engineering course graduates webpage) will be provided to graduates.
Investment
The course fee of $2600 (excl GST) is due seven days prior to the course starting. Participants should allocate three hours per module on average. Participants will get the most benefit from this training by working through a whole house design, whether an actual client project or an example project the trainers will provide. All up, we expect it would take a typical student 40 hours to complete all the course requirements. 
Required resources and knowledge
PHPP10.3 or newer (in Excel)

designPH2.1.10 or newer, running in SketchUp Pro

Familiarity with Excel and PHPP

Basic SketchUp skills so as to create building forms and shading.

Completing this class

is sufficient. 

Basic building science, physics, and construction knowledge such as taught in the Certified Passive House Designer/Consultant (CEPH) classes offered by

PHANZ

, or equivalent.

Proficiency in mathematics to senior secondary school level.
How to apply
Limitations, liability and copyright 
There will be no refunds once the course has been accessed so it is important that students understand the prerequisites and what is expected of them. This course involves mathematics and physics and assumes participants are familiar with the basics of using a spreadsheet or SketchUp; this will not be taught in class. 
The course materials including videos represent a significant investment in intellectual property. They are copyright and may not be shared with anyone.
In general, this course material is provided under our website terms and conditions, and we wish to highlight two points in particular:
The authors of the information in this course have used their best efforts to provide accurate and authoritative information in regard to the subject matter covered. While reasonable care has been taken to provide accurate information, the author(s) and Sustainable Engineering Ltd make no warranty of any kind, expressed or implied, with regard to the information provided being suitable for any particular purpose. The information presented must be used with care by professionals who understand the implications of what they are doing. The author(s) and Sustainable Engineering Ltd shall not be liable in the event of incidental or consequential damages in connection with, or arising from, the use of the information contained in this course.
This online course(s) are delivered to you under a limited, non-transferable, single-user license to access such course(s) for your own use only in accordance with our Terms and Conditions as posted on our website. You are permitted to display, download, and print the files provided under the condition that such activity is for your personal or internal business purposes. You may not modify or prepare derivative works or otherwise re-distribute or publicly display the content.