The White Home
Clareville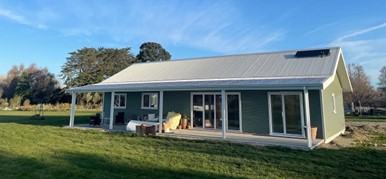 Determined clients, an experienced Passive House designer and a builder with an eye for detail: that was the magic combination responsible for this appealing home-for-life in Carterton. There were some tough challenges along the way, including false starts, bankrupt suppliers and Covid-19. 
Despite everything the owners held fast to what they wanted: a warm, healthy, quality home sized just right for them. They have become passionate advocates for the Passive House standard; in particular they love how their home's temperature is stable and perfectly comfortable, everywhere and all the time. No chopping firewood or blasting heat pumps required!
The White Home sits on nearly two hectares of land just minutes from the no longer sleepy town of Carterton, north of Wellington. It's the third certified Passive House in the Wairarapa but the first for the Carterton District Council. Consenting officials were unfamiliar with Passive House products and methodologies (particularly the window installation details but also the air and vapour barriers). They were also unwilling to consult with peers in other councils. 
Instead the owners and designer endured 57 Requests for Information and still the first consent was rejected. Scheduling additional site inspections by the architect/Passive House designer and key suppliers (at the client's cost) helped break the impasse. By the time consent was granted, 4.5 months and much money later, the builder had had to move onto another job, adding even more delay. 
(Such sagas are now fortunately quite rare because many building consent officials have increased their knowledge and comfort levels about Alternative Solutions that are far superior to the Building Code minimums. Publication of the High-Performance Construction Details Handbook is helping with this process of education.)
However, more heartbreak was in store, when the window supplier went bankrupt. The owners lost their deposit and the site was shut down for 24 weeks while new windows were sourced from Germany.
The owners had been living in a sprawling house in Wellington with six bedrooms and two living rooms and were sick of the time it took to clean and maintain. Their nest was emptying; only one of their four children still lives at home now. They took a very well thought through floor plan to their architect and have fitted in a lot of functionality into the house's modest 120m2 TFA: three bedrooms, two bathrooms, an office and the open plan living space they favoured.
The clients openly share the home's $650K (incl GST) construction budget. They want other New Zealanders to know that building a new Passive House isn't out of reach for those with an average-sized budget. They don't feel they traded off anything in order to afford the performance and comfort they wanted.
There wasn't an option to use a builder experienced in Passive House construction but the foreman had the right attitude: attention to detail and a willingness to think outside the box. The team's craftsmanship and curiosity brought about a terrific result, with a blower door test result well under the Passive House target. This was aided by the use of Ecoply Barrier on the walls, which created the airtight barrier.
Universal design is another feature of this home, which has a Lifemark 5 rating. The clients were thinking ahead to ageing-in-place themselves, plus were sensitised to people's diverse needs due to ageing parents and a family member who uses a wheelchair. From their point of view, it just makes sense to create a space accessible and welcoming to everyone who might want to visit. 
Passive House Metrics
Heating Demand

12.8kWh/m2/year

Heating Load

10.3 W/m2 

TFA

119.7m2

Form Factor

3.7

Air leakage @ 50Pa

0.4 ACH/hour

PER demand

41.3kWh/m2/year
Passive House Database - 7006
Construction Details Average Values
U-value External Walls 

0.21 W/(m2K)(R4.8)
Cladding / 140mm insulated timber wall / 7mm plywood / 50mm insulated service cavity / plasterboard

U-value Floor

0.13W/(m2K)(R7.9)
100mm Concrete / 220mm Solid EPS Waffle Pods / 75mm Continuous EPS

U-value Roof 

0.13W/(m2K)(R7.8)
Truss roof with 300mm insulation / 140mm service cavity / Plasterboard

U-value Glass

0.52 W/(m2K)(R1.9)
Triple glazing (4:/18/4:/18/4)

U-Windows

0.8 W/(m2K)(R1.3)
ENERsign

Ventilation Efficiency

76%
Stiebel Eltron - LWZ 180 (Balance)