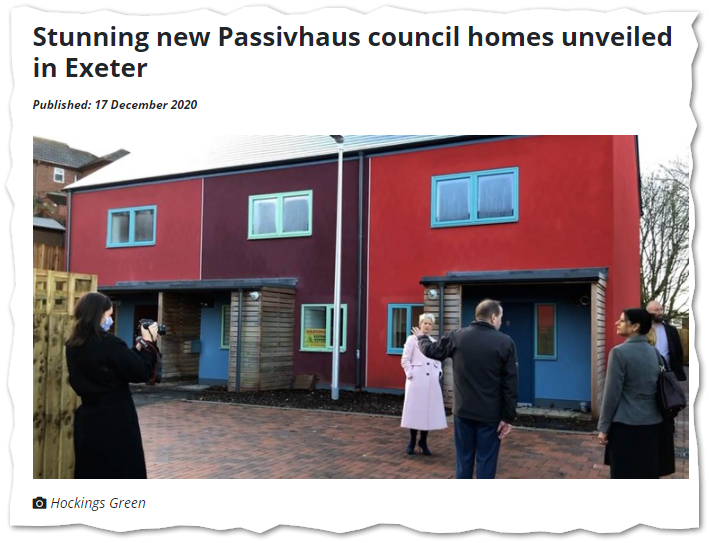 More Passive House units have been completed in Exeter in the United Kingdom: what a start to the new year for the lucky social housing tenants who are moving in and what an example New Zealand could follow.
Exeter is a small city in Devon, in the southwest of England, which has established a big reputation for Passive House development. Its city council is one of the few in the UK to be building new social housing and its showing the world that it is possible to deliver Passive House performance and comfort on a budget.
The council has established its own development company to further its ambitions to decarbonise its assets. All new council buildings, not just residential housing, are now built to the PH standard and there's a tonne of great stuff in the pipeline. It includes a rest home, swimming pool and leisure centre and council offices. In just the next five years, the council will build 500 more Passive House homes.
Emma Osmundsen has overseen this vision, which started small, proved itself and is now being replicated at scale. In a decade, Exeter has developed 103 certified Passive House homes, including the UK's first multi-residential PH development in 2010. "These have all been affordable homes meeting the City's ever increasing housing need. Of these homes, over 60% of residents have not needed to switch on their heating since the homes were occupied – whatever the weather! This has helped transform some households who can now afford a family holiday or extra curriculum activities for their children," Emma told APSE.
Exeter is not a huge city. It doesn't have the budget of a City of London. The local population is about 140,000 and the region has less than 500,000 people. This is an example that Wellington could follow: build a few test units, demonstrate it works and then stand up a company or group to make it happen. Public money starts the ball rolling and demonstrated success encourages/persuades private developers that they can do this too.
Emma Osmundsen presented at the SPPHC in Wellington in 2019; that's when we learned that building social housing to Passive House standard isn't costing Exeter any more than mimimum standard developments. The first few units they built cost more, but they applied what they learned and brought the cost down.
As Emma says, "We have to decarbonise our economy and we need homes that are fit for purpose, that are affordable to heat, that are comfortable and healthy."