Today we have it: the new H1 has been released. I no longer need to keep it all secret and can finally talk about the new energy efficiency requirements.
Note there is a year's lag before these come into effect ("adjustment period"). Just get on with it, I say to the heel-draggers. As MBIE says, "the changes go as far and as fast as is achievable using current insulation products and construction design and practices" [emphasis mine]. In other words, this is not a bold stride. More of a timid step—but I'll still celebrate the small victories.
Residential
Housing will require R6.6 roofs and R0.46+ windows but only R2.0 walls and R1.5+ slab on-grade floors. The calculations for windows have been changed to explicitly align with ISO standards, the same ones we use in Passive House methodologies. The slab on-grade floor calculation methodology is to an ISO standard but with internal dimensions, so it is not comparable to what you'd calculate for a Passive House build.
What does it mean?
Much thicker roof assemblies: very close to Passive House performance in many New Zealand climate zones.
Aluminum frames will require thermally-broken frames in my view and will have to use very good low-e glass.
Timber frames (inherently less conductive) would make more typical low-e glass an option.
Slab on-grade requirements of R1.5: checking the table in H1/AS1 shows it will require at least edge insulation for single family detached homes throughout New Zealand (unless it's a mansion).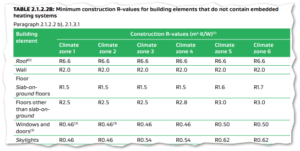 Commercial
Here we see much larger changes, which makes me happy. The increase in R-value is much larger as the existing requirements for commercial buildings were so pitiful. Still, in the coldest climates R7 roofs and R3.2 walls with R2.6 slab on-grade will be a good change.

Now everyone needs to start designing better buildings! The Passive House community can feel deserved pride for demonstrating how it's done. Our trail will make for an easier transition for Code-minimum designers and builders.
I wish we could have gone further but we need to bring the whole industry along. It's also vital to change the other sections of the Building Code in lock step to prevent unintended consequences. They can be ugly.