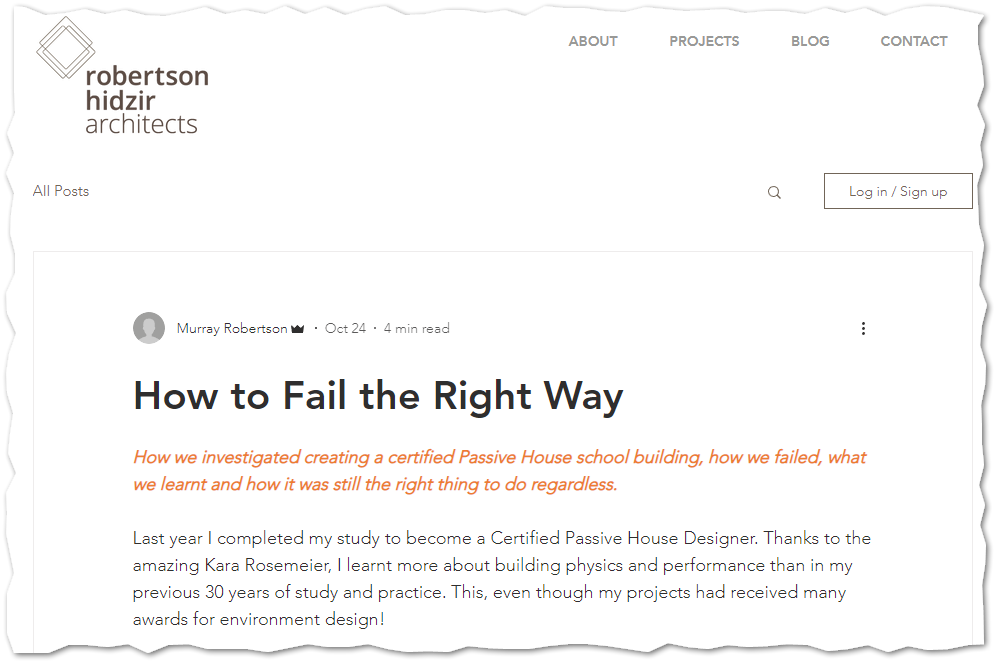 Architect—and newly graduated PH designer—Murray Robertson wrote a really insightful piece about his experience designing a mass timber school building to the Passive House standard. Things were looking good:
"We found for a typical mid-size school building that all that was required, apart from careful modelling and design, was better-performing windows, a relatively inexpensive airtightness layer, and a fresh air mechanical ventilation system with heat recovery."
Covid-19 is focusing attention on ventilation and indoor air quality like nothing before. It's fair to say that most classrooms are terrible environments on these counts and it's bad for learning as well as increasing risk of transmission of airborne pathogens.
I highly recommend reading Murray's article in full because it is thoughtful, clear and highly relevant to anyone designing projects larger than a single-family home. Also his enthusiasm for Passive House is contagious.
However, spoiler: the high-performance windows got axed.
 "Unfortunately, our project was overtaken by increasing construction costs. Cost savings had to be found that meant we were unable to meet this standard. But we still believe it was the right process to take regardless. It allowed us at the earliest possible stage, with a relatively low cost, to optimise the building's insulation levels, fenestration and potential thermal breaks. It told us what we needed to do if we were to have a higher-performing building, and what was unnecessary. Isn't this something we would want on any project?"
Yes, and especially for a classroom, like where my son is stuck for six hours a day. 
I've known Murray for a long time and it was great to have him in the designPH workflow class I taught a few months back. Passive House design workflow for larger commercial buildings in New Zealand is still a work in progress. The Sustainable Engineering Ltd team has done heaps of residential buildings and we've fine-tuned a good workflow. We are extending this to designing a workflow for larger commercial and multi-residential projects. They are different but the fundamental process is the same.