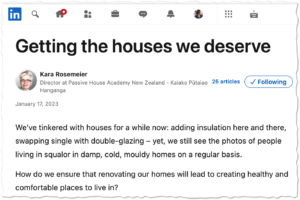 Successful energy retrofits are complex. This should be no surprise: building are complex and fixing one already built is harder than building it properly in the first place. It is very difficult to obtain good results with an approach that depends on tick boxes and rules of thumb. An EnerPHit plan is needed, which involves a full energy model—or something functionally similar that does much the same work even if it is called by a different name.
Done well, deep energy retrofits are worth it. I noted with interest a recent article on Linked In by my friend and colleague Dr Kara Rosemeier: "Overall, the expense [of energy retrofits] is very cost-effective, and in the public interest, as it will reduce suffering and related spending, as well as productivity losses. People who are sick most of the winter, or need to care for sick children cannot possibly contribute to society to their fullest potential."
How can we make this happen? Kara has experience doing this exact job in Germany, so we should listen when she says there is a solution. Even if that advice might make some responsible for regulation and policy making wince.
Kara writes:
For owner-occupied buildings, we need an incentive programme which comes with free consultation. This won't come cheap, as retrofitting houses is the back belt in housing projects. Consulting on these projects isn't a job for graduates. To do justice to the complexity of the task, you need very experienced people with a solid background in building science on this job (and no: I won't be available for this). The consultation should be coupled with performance-based subsidies that help with bridging the gap between the initial added investment for better performance, and the eventual gains through lower operating costs.
Homeowners should be free to choose between DIY and professional help – the performance-based incentive should be fixed in any case.
This programme needs to be coupled with a quality assurance scheme. We want bang for the buck, we want measures that perform well – and there is a chance of even making the situation worse with poorly designed or executed solutions. Again: this will be expensive, but without this expense, we may just have gurgled a lot of money down the drain with no benefit to the people living in the house or the wider community.
I recommend reading the entire article (it's short) and following Kara if you don't already.