Advances Toward a Net-Zero Global Building Sector is a BIG tech paper, happily published with open access so people outside of academic institutions can actually read it. See below for the abstract and a link to the paper. New Zealand is well represented in the paper's database due to our Passive House buildings. The following items are worth paying particular attention to.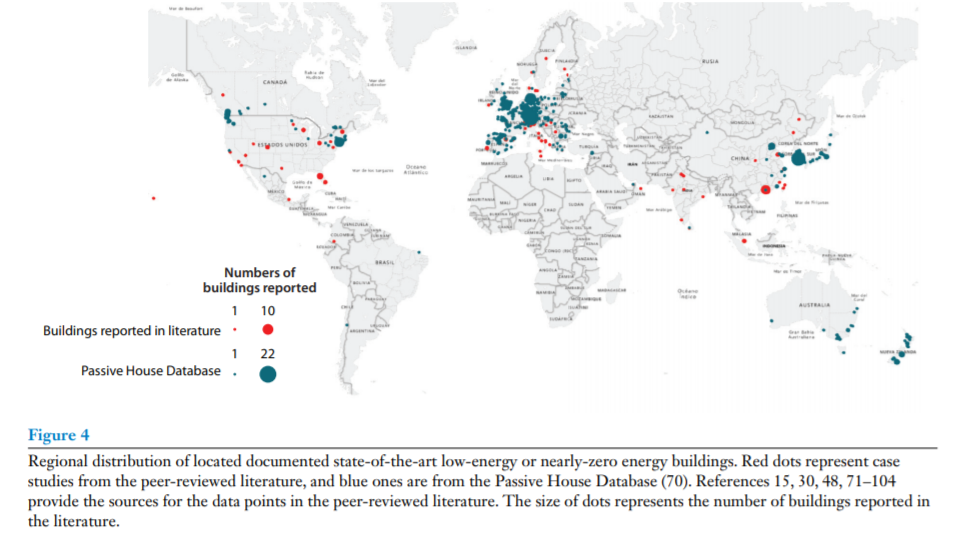 "Evidence from the literature shows it is possible to achieve net- or nearly-zero energy building outcomes … [with] skills that already exist, and at costs that are in the range of conventional buildings."
The Pennsylvania Housing Finance Authority in the United States is offered as an example. Its change to the criteria for access to federal affordable housing tax credits saw the number of Passive House buildings in the state explode. In two years, it went from a handful of Passive House buildings in the state to over 900 in the works.
Second, "According to the IEA (181), in 2017 the manufacture and use of materials for buildings construction and renovation accounted for 11% of the global overall energy- and process-related CO2 emissions. We refer to this as embodied carbon in buildings. More than 50% of these embodied emissions come from steel and cement production, due to the large amount of material used and to the carbon-intensive production processes."
In other words you can get halfway on embodied carbon by switching away from steel/concrete in our buildings. This is often (not always) easy thanks to cross laminated timber (CLT). From the abstract we need nearly zero energy buildings (ie Passive House performance); and because "embodied carbon in building materials can consume up to a half of the remaining 1.5°C carbon budget," we need to urgently lower embodied carbon as well.
More on costs
"The Pennsylvania Housing Finance Authority in the United States awards funding to social housing project developers in a competitive bid process in which competing proposals are ranked using a point system, and those projects with the highest number of points are funded. In 2015, that agency started awarding additional points to certified Passive House projects.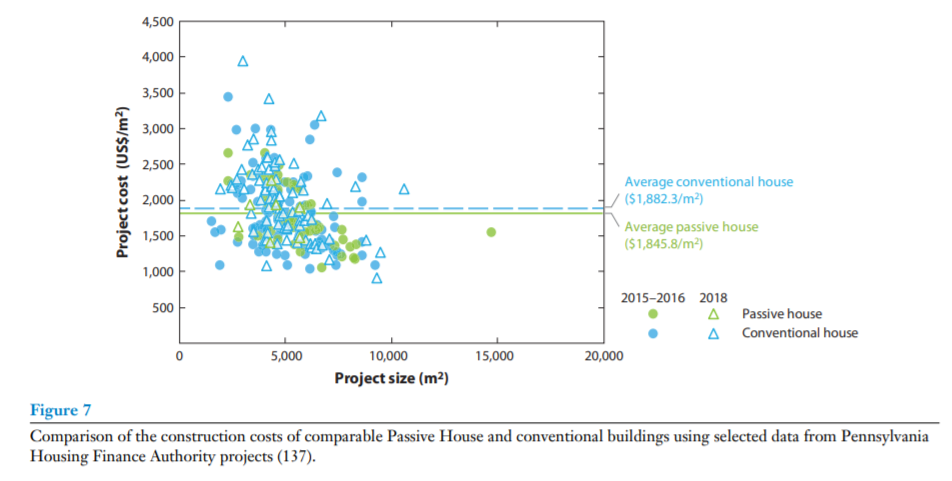 "In the first year of offering this incentive, with virtually no Passive House projects in the state, the incremental cost of Passive House over conventional construction per square meter of floor area was 5.8% but dropped to 1.6% in the second year. By the third year of the incentive, the average cost of successful Passive House projects was 3.3% less that the cost of conventional projects (Figure 7). Over the first three years of the program, the 74 Passive House projects funded were an average of 1.7% less expensive than the 194 proposals for conventional construction (137).
"These results illustrate that the cost of energy efficiency is not the main determinant of construction cost, and if important, net-zero or nearly-net-zero energy buildings can be built from budgets for conventional buildings."
Advances Toward a Net-Zero Global Building Sector
Diana Ürge-Vorsatz, Radhika Khosla, Rob Bernhardt, Yi Chieh Chan, David Vérez, Shan Hu, and Luisa F. Cabeza
Abstract
"The building sector is responsible for 39% of process-related greenhouse gas emissions globally, making net- or nearly-zero energy buildings pivotal for reaching climate neutrality. This article reviews recent advances in key options and strategies for converting the building sector to be climate neutral. The evidence from the literature shows it is possible to achieve net- or nearly-zero energy building outcomes across the world in most building types and climates with systems, technologies, and skills that already exist, and at costs that are in the range of conventional buildings. Maximizing energy efficiency for all building energy uses is found as central to net-zero targets. Jurisdictions all over the world, including Brussels, New York, Vancouver, and Tyrol, have innovated visionary policies to catalyze the market success of such buildings, with more than 7 million square meters of nearly-zero energy buildings erected in China alone in the past few years. Since embodied carbon in building materials can consume up to a half of the remaining 1.5°C carbon budget, this article reviews recent advances to minimize embodied energy and store carbon in building materials."