Although this media release doesn't mention it the Queenstown Lakes District Council has been methodically reviewing the costs and benefits of Passive House for some time. After this review and discussion with industry experts the business case for certified Passive House was recommended to council and successfully made it through the Council decision making process.
Queenstown Lakes District Council (QLDC) has today (Thursday, April 18th 2019) released a request for proposal (RFP) to assemble a design team for the permanent replacement for Luggate Memorial Hall.

QLDC Property Director Richard Pope advised the requirements will include designing to certified Passive House standard.

"We are keen to see proposals from suitably qualified designers who have knowledge and experience with Passive Housing," said Mr Pope.
"As this type of build for a community space is relatively new for our district, we will be open to proposals from designers with experience with residential Passive Housing".


QLDC Property Director Richard Pope

In order to get potential contractors involved in the process early, expressions of interest will also be sought from contractors interested in being involved in the design process.
"We plan to release a request for proposal (RFP) for this early contractor involvement (ECI) on the GETS portal shortly," Mr Pope said.
Once the design team is assembled, the project will then move into the next stages. "This will include revisiting the early feedback provided by the community in the Our Community Spaces report and factoring this in to the draft designs. A particular area of focus will be how the new facility can help meet community space needs not only for Luggate but for the wider Upper Clutha community," added Mr Pope.

Responses to the Design Team RFP can be provided via the GETS portal from today until 12 noon on 20 May 2019. Community consultation on the draft designs is expected to take place later in 2019 with the permanent hall earmarked for completion in early 2021.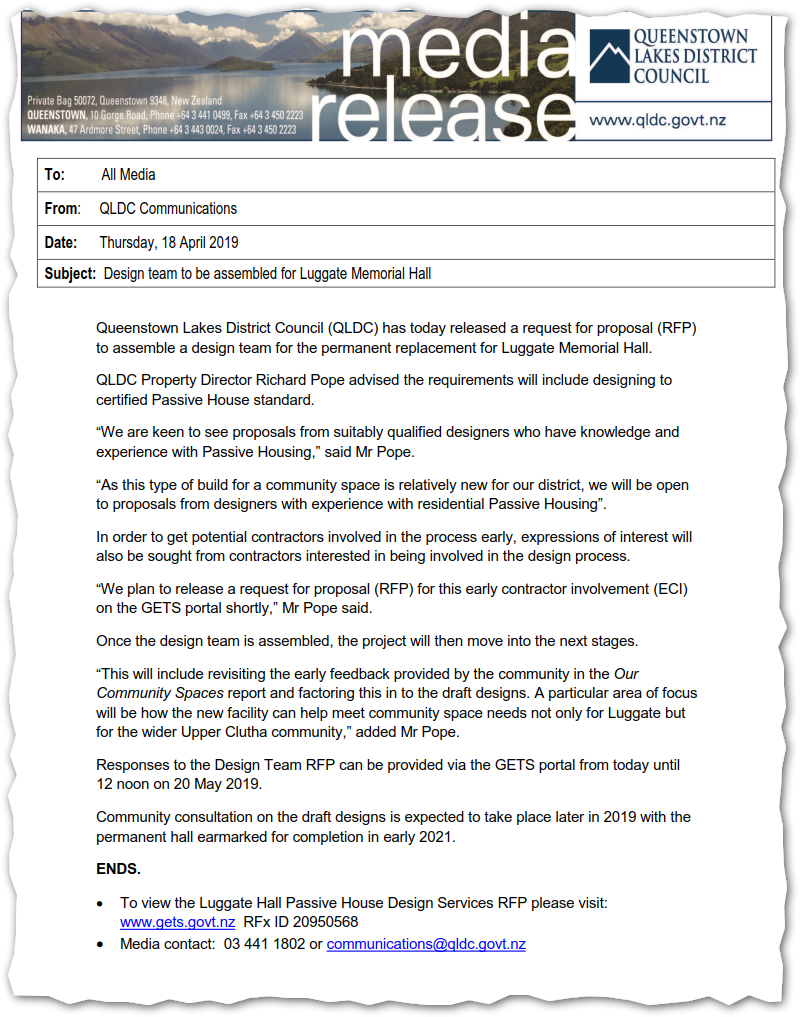  To view the Luggate Hall Passive House Design Services RFP please visit:
www.gets.govt.nz RFx ID 20950568
 Media contact: 03 441 1802 or communications@qldc.govt.nz