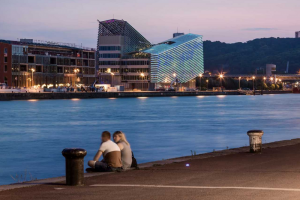 Crazy looking building: but under the iridescent facade is a standard form office building. Well, standard aside from the funky double concrete staircase. The architect's website has some great photos.
but the really interesting point is the performance … this is a Certified Passive House Plus. It's listed as the largest certified project in France as at the time of certification.
The TFA* is 6365 sqm but I note the architects quote the floor area as 8500 sqm. Using their figure and the construction cost from their website, this was $5000NZD per sqm. That facade is not inexpensive! It reminds me of proposals for the Wellington Museum a few summers ago. Perhaps the Wellington designs should be revised to be Certified Passive House as well.
Stats:
300 mm of rockwool exterior insulation over a concrete structure for the walls;

240 mm warm roof (database says polyurethane but I think it's PIR board like Nuralite does);

triple-glazed windows with Raico frames;

Swegon Mechanical Ventilation with Heat Recovery made up of 5 units, one GOLD RX 14, two GOLD RX 25, one GOLD RX 35, and one GOLD RX 50. (These are the same units used in MBIE's office building at 15 Stout Street in Wellington.)
*Treated Floor Area. See page 34 of Passive House for New Zealand, available here.
Images are from Ferrier Marchetti Studio.
—22 Jan 2020