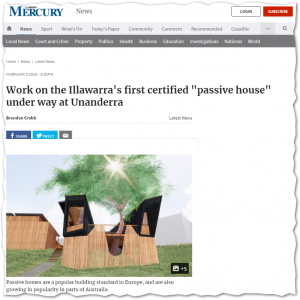 This showhome in NSW Australia is targeting Passive House performance levels. This is a very challenging project: it is small but also complex with a high form factor because of its non-rectilinear design. Its performance has been tightly optimised in order to contain costs, so it will demand perfect execution by the builder (who is also the client).
Alexander Symes is the architect and Daniela Russo is the Passive House designer on this project. Sustainable Engineering is the certifier for this project. It has successfully completed its pre-construction review, which means if it is built according to the design, it will meet the Passive House certification. We are looking forward to the final review.
Adam Souter is constructing the 60m2 home as a secondary dwelling alongside his own family home.
"It'll be our company office, as well as a display home for clients to see what a passive house is,' Mr Souter said.

And some of our clients will be able to spend a few nights in it to experience a Passive House before they purchase one because people need to understand the difference.

There's health benefits and comfort of living in this type of dwelling, as well as the environmental impact. You're using 90 per cent less energy than a standard Aussie home.

Doing it as a secondary dwelling, in terms of keeping the footprint of the building small aligned with my interests in sustainability and affordability."
—6 Feb 2020