Muriwai Valley Passive House
Muriwai Valley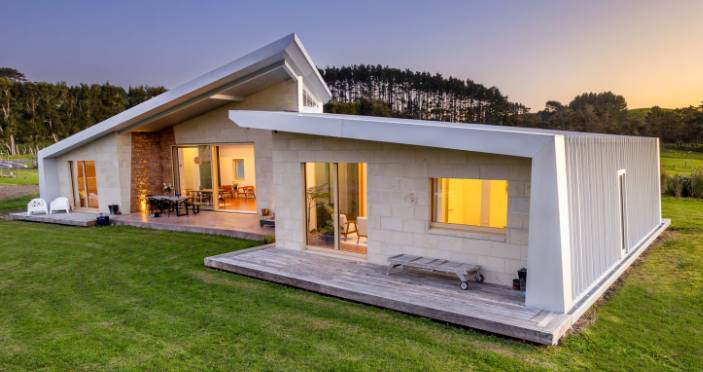 This stunning family home on Auckland's west coast had a point to prove to those who criticise the Passive House performance standard for "requiring square boxes". Passive House can be anything within reason, says the owner and designer Nick Gaites. "I understand why engineers would design a rectangle, I don't know why architects do it. I wanted a home that had very low energy consumption but was also very beautiful."
The Auckland climate is forgiving and gives any Passive House designer freer rein—plus an outstanding airtightness result for this build also reduced the heating load. The design of this home sacrificed ultra-low energy consumption for the benefits of a dramatic architectural form that includes lots of glazing. That glazing however has been very carefully considered. It primarily opens to appealing north-eastern views up the valley. There is very little glass to the east and west. Clerestories on the western face bring in daylight but protect from excessive solar gain.
The house feels very spacious, so the relatively modest 164m2 treated floor area footprint comes as a surprise. There was a sustained focus on making the floor area efficient and also flexible. For instance, there is only one very short corridor and a multi-functional space that currently serves as a TV room could be used as a fourth bedroom. A relatively small space, well-designed, can adapt to changing needs, says Nick. "Houses don't need to be massive. Lots of people say Passive House is too expensive, but they want a 350 square metre house!"
The project benefited from strong relationships with various contractors—many longstanding, but one was new. This was Nick's first build with Formance SIP and a great relationship was formed; Nick owns Barefoot Architecture, which is now one of Formance's preferred designers in the Auckland area. 
It was very interesting to build the house virtually before building it physically, says Nick. "The drawings get spread out between different contractors, there's lots of interaction between different trades and manufacturers. With all that, when the last panel came to be fitted, it was within half a millimetre. That's incredibly impressive. All the joinery was ordered off the plan and it all fitted perfectly too."
Trust and respect are vital to delivering a successful build. The builder, Alan Meikle, has been Nick's friend and colleague for the best part of 20 years and he brought with him a network of sub-trades that have worked with him since they were teenagers. Nick did bring in his own electrician: as a kid, he'd popped next door to earn pocket money cleaning up the site of the family home Nick built in 2007. Now he's a qualified tradesman running his own company with an open mind to non-traditional ways of wiring.
Nick wanted to control all the variables he could and this prompted an innovative approach to running cabling. He and the builder decided in advance on the location of all penetrations through the building's airtight membrane, following proper discussion with subtrades. Conduit was fixed through the SIP walls and made airtight and watertight with Proclima products. "That way the plumber and sparky were not responsible for drilling and sealing [penetrations]. They just arrived on site and ran their pipes and cables exactly where we wanted them," he says. Once the services were installed, the conduits were filled with compatible foam and the ends capped off with sealant. 
Several setbacks meant this was a long, drawn-out build. A new section had to be found after the house was already designed; the original joinery company liquidated; and then Covid-related disruptions took their toll. Young families grow fast and by the time they moved in, the necessity of living closer to schools and extra curricular activities on the other side of Auckland spurred a reluctant decision to sell. As of September 2023, the home is listed for sale by Barfoot & Thompson.
Passive House Metrics
Heating Demand

15.3kWh/m2/year

Heating Load

11.5 W/m2 

TFA

164.2m2

Form Factor

4.1

Air leakage @ 50Pa

0.2 ACH/hour

PER demand

42.8kWh/m2/year
Passive House Database - TBA
Construction Details Average Values
U-value External Walls 

0.28 W/(m2K)(R3.61)
Formance 115mm SIP wall with service cavity

U-value Floor

0.60W/(m2K)(R1.66)
Concrete slab with 300mm waffle pods and 20mm XPS beneath

U-value Roof 

0.20W/(m2K)(R5.06)
Formance 215mm SIP roof with service cavity

U-value Glass

0.75 W/(m2K)(R1.33)
High performance triple glazed

U-Windows

1.1 W/(m2K)(R0.9)
Raico curtain wall and FT Vilstal timber aluminium windows

Ventilation Efficiency

74%
Aertesi EOS-B3