The results of a survey on the state of New Zealand housing are getting plenty of media coverage at the moment, given the grim findings about the scale of the problem (see a summary below). The results suggest several hundred thousand New Zealand homes are cold, damp and expensive to heat. Huddling in a single heated room is routine in 145,000 households! The survey was carried out by Habitat for Humanity in partnership with AMI.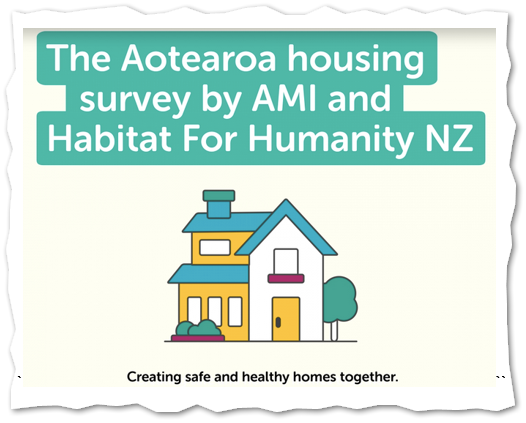 Some of the advice provided is well meaning but misses a key point. Warm, healthy dry homes require two things: ventilation and heating. Insulation is not magic. It reduces the amount of heat that is lost and therefore required, but heating is still a necessary input. (Even a Passive House building needs heating in most of New Zealand's climates, just very little). But what about when the cost of heating is unaffordable because of the fabric of the house?
Don't blame occupants for the unacceptable housing conditions. I've seen videos of university students leaving windows open around the clock in an attempt to dry out their Wellington flat and have heard of similar actions in Dunedin. Ventilation alone is not going to work. Running a heating source indoors will increase the temperature which also reduces the relative humidity. But they have no budget for heating (and given the flats they live in, the cost would be nuts) and so they just go on living in cold, damp and unhealthy conditions. Insulating those flats well would mean they could afford to heat and ventilate and they'd live in a warm, dry and healthy environment.
RNZ's coverage of the survey findings is worth reading. Stuff has previously written about a University of Otago study that showed heating one Wellington child's bedroom for a month would eat through almost half the government's winter energy payment.
In case you are going to say, "wow, but at least all the recently built homes are good", this article reports on a 2008-built home causing significant health issues despite ticking the boxes for the Healthy Homes Standard. As at 30 June 2022, we are still building to that same, inadequate, standard.  
Reference
Survey results from Aotearoa Housing Survey. Research was conducted by Camorra Research in March 2022 with a base of 3,039 New Zealand households.
Key findings
Keeping warm
Renters are significantly more likely to be concerned that their home is too cold, 60% of those renting privately versus 40% of those who own their own home.

A third (approx. 635,000 households) state that their winter power bill is excessive.

37% are using as little heating as possible to manage their electricity bill.

16% go to bed earlier than usual; (approx. 300,000 households) to stay warm when it gets very cold in winter.

8% all stay in one room and only heat that room (approx. 145,000 households) to stay warm when it gets very cold in winter.

The majority of homes in New Zealand have some insulation, but less than half (43%) have both underfloor and ceiling insulation.
Damp and mould
Over a third (42%) are worried about dampness in their home. This equates to approximately 795,000 households, of which approx. 150,000 are very concerned.

Almost 1 in 10 NZ households are concerned about significant mould in their home (approx. 215,000 households).

When looking at those households who have significant areas of mould, concerns over dampness and/or condensation: a fifth state mould/dampness/condensation worsens the breathing of those living in the house (approx. 180,000 households).

12% state mould/dampness/condensation worsens the breathing of children living in the house (approx. 115,000 households).
Secure and structurally sound
A third of households (approx. 680,000 households), do not have locks on all windows.

Those renting are less likely to feel safe and secure in their home (6%) compared to those in an owned home (2%).

Almost a third (30%) of NZ households have internal issues in need of repair. Of those, 36% have been an issue for over three years.

Over a third (38%) of New Zealand households have issues in need of repair outside the home. Of these external issues, a third (35%) have been an issue for over 3 years.