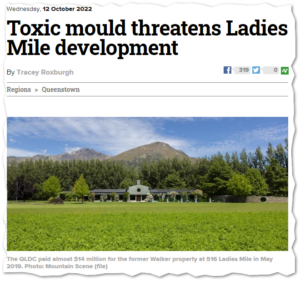 It's rare to hear about building failures as owners of properties that require remediation often want it kept very quiet. As the new owner is the local council, which claims it bought it for the land, this case made headlines locally.
The property at 516 Frankton-Ladies Mile boasts a five bedroom, copper-roofed house sprawling over 440m2, plus additional 320m2 of vehicle/aircraft garaging and an in-ground swimming pool on nearly 15ha in a prime Queenstown location. Not a budget build, right?
The council planned to develop the building into an interim community facility but toxic mould was discovered behind the building's cladding. Remediation was reported to require replacing all the cladding plus windows and interior framing panels.
It doesn't matter if the roof is copper or how much garaging you have if there are moisture issues in the building… what a decade the 90s was. Given the extent of remediation required, it is reasonable to speculate there was a design/construction issue with the envelope of the building.
Whatever the building, whatever the budget, get the building envelope right. If you don't, the risk of building failure is real.