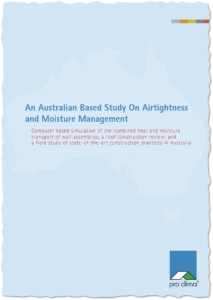 ProClima has released an in-depth look at lightweight timber framing construction for walls and roof (and including warm roofs and their hybrids) across the climate zones of Australia. The report, by Jesse Clarke, is An Australian Based Study On Airtightness and Moisture Management and it is available to download. It includes tropical climates. That will be of considerable academic interest to some New Zealand Passive House designers. Many climates in New Zealand are rather similar to the Australian cities of the southern coast (Melbourne, Adelaide, Hobart) and it is great to see a complete study like this.
When Sustainable Engineering is carrying out Passive House design, the team often specifies Intello as the interior air control layer. This is because it's usually the most economical option when the full cost of construction is considered. I appreciated seeing the report discuss the circumstances in which Intello is not needed.
There is of course the earlier paper published by ProClima, A New Zealand Based Study On Airtightness and Moisture Management by Thomas van Raamsdonk, from some years back. It's still available here. Clarke's paper is much more in-depth.