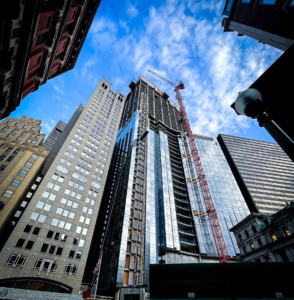 Sometimes I take a look to see what's going on in Massachusetts, just for old times sake. And look at this: the Winthrop Center is a Boston high-rise that will be the largest Passive House office building in the world. It's a 211m high mixed-use tower with 75,000m2 of office space and 317 luxury residences, among other facilities. 
I've worked on concept studies in New Zealand for some large buildings (>10,000m2) but nothing on this scale. It really highlights the flexibility of the Passive House standard, how it can be readily applied to all types and sizes of buildings. 
The article quotes Passive House Network board chair Craig Stevenson as saying the project "is paving the path for developers searching for more energy-efficient solutions and for cities and states trying to meet carbon reduction goals. Passive House is the route to zero operational carbon, which is why [this] is a globally important building,"
The Winthrop Center recently picked up a "Passive House Trailblazer" award from the Passive House Network. It's due for completion next year. Follow the link for another image that really shows the scale of this building. It dwarfs its high-rise neighbours.