Monday 13th May 2019 NZ Parliament signed into law the Healthy Homes Standard. This effectively requires bringing the ceiling and underfloor insulation up to current standards, install fixed heating in the living room and extractor fans in the kitchen/bath except where these upgrades are not practical.
Several good articles including: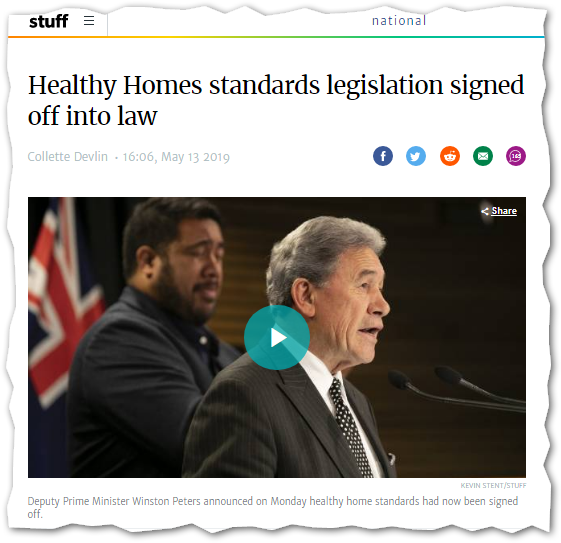 Healthy Homes standards legislation signed off into law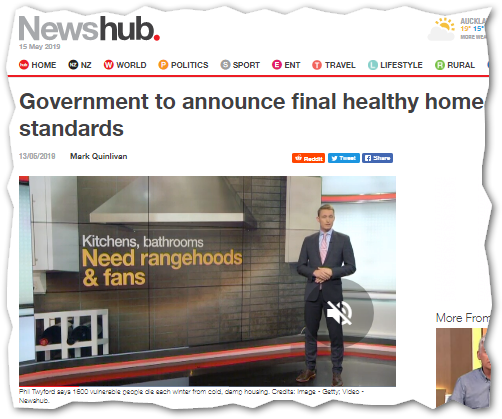 Government to announce final healthy home standards
"What the standards mean

All rental homes will be required to have a heater that can heat the main living area to 18C.
Rental homes must have ceiling and underfloor insulation that either meets the 2008 Building Code insulation standard, or (for existing ceiling insulation), has a minimum thickness of 120mm.
Rental homes will also be drier under these changes, as kitchens and bathrooms will have to have extraction fans or rangehoods. Where rental homes have an enclosed subfloor space, property owners will need to install a ground moisture barrier to stop moisture rising into the home.
The standards also reinforce existing law which says landlords must have adequate drainage and guttering to prevent water entering the home. Draughts that make a home harder to heat will have to be blocked.
The 2016 insulation requirements remain in force. From 1 July 2019, ceiling and underfloor insulation will be compulsory in all rental homes where it is reasonably practicable to install.

Compliance timeline for the new standards
July 1 2021 – From this date, private landlords must ensure their rental properties comply with the healthy home standards within 90 days of any new or renewed tenancy. All boarding houses must comply with the healthy home standards.

July 1 2023 – All Housing New Zealand houses and registered Community Housing Provider's houses must comply with the healthy home standards.

July 1 2024 – All rental homes must comply with the healthy home standards."
A 2016 survey revealed half of rental homes are mouldy, yet most landlords are ignoring the problem.
Housing and Urban Development Minister Phil Twyford previously said current standards were impacting health.
"Approximately 1600 mostly older New Zealanders die premature deaths every winter," he says.
"That is in large part caused by cold damp housing."