The owner of Mona Vale's former Stable Master's Cottage got carried away when he visited Christchurch four years ago – he fell in love with an "as is, where is" house and bought it on a whim.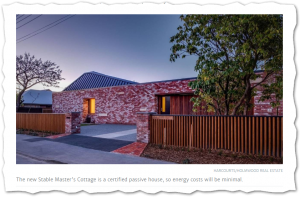 "I bought it in a moment of madness," he says. "It had moderate damage. It was a double-brick house with no timber framing to support it, and one exterior wall had fallen outwards. But it was a drop-dead gorgeous house, built in the William Morris Arts and Crafts style with limestone bands at head height, leadlight windows, dado rails, patterned wallpapers and 11ft (3.3m) ceiling. It was so lovely, and it had been in the same family for 50 to 60 years, but the mother had passed away and the siblings needed to sell."
House is certainly stunning and is targeting Certified Passive House. We hope to review the paperwork soon and that is meets the very difficult Passive House Standard.
Content by Stuff.