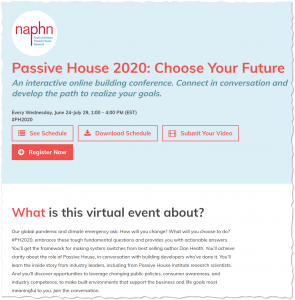 The North American Passive House Network annual conference will be a great event—and way cheaper than normal due to being virtual. The bad news is the timing sucks for Australia and New Zealand time zones if you want to chat with the speakers live. However, all the recordings will be available to registered participants for later viewing. All the details are here.
Full access is $USD180—early bird before 1 June—thereafter $USD220.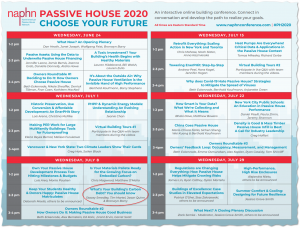 Sustainable Engineering Director, Jason Quinn, will be jointly presenting the session "What's Your Building's Carbon Debt? You should know."
Stacy Smedley – Stacy is the Executive Director at the Building Transparency and developer of the EC3 embodied carbon calculator tool. This is an open-source calculator that has developed a standardized EPD process for materials used in the US. 
Tim Martel – Tim is the developer of PHRibbon, a PHPP plug-in tool being used in the UK that includes a module that calculates building embodied carbon.
Jason Quinn – Jason is a Passive House Certifier and building energy consultant who has hacked together PHPP and  LCA Quick in collaboration with BRANZ to answer some difficult questions in New Zealand and assess building embodied carbon.
Click here for a more in-depth presentation of that hack.
—16 May 2020