Brand new Passive House goes to the market
24 September 2020 by Rachel Rose
Glenn Harley is a well-known Christchurch builder with a towering reputation. His building career stretches back decades and he's become a convert to high-performance building and the Passive House standard in recent years. He's just finished his fourth certified Christchurch home but this was not like the others. He was his own client, building a house he intended from the outset to take to market.
The Mt Pleasant home sold this month to an English couple who recognised and valued its high-performance credentials. It is the most unlikely "spec build" but Glenn doesn't shy away from the term, which is not usually associated with architectural flair or quality construction.
"I wanted free rein, a fun project for me. I wanted to stretch the boundaries a bit. This is still a single-family dwelling but it's fairly complex. I enjoyed it and so did the team." —Glenn Harley
Going to market
Building interest in high-performance homes needs the input of knowledgeable bankers, valuers and real-estate agents and this project contributed to the education of local professionals. Glenn was happy with a very hard-working agent who was open to learning about what made this house special.
The interest in the house and the reactions of potential buyers are illuminating. A lot more people are familiar with the Passive House name now, says Glenn. "The occasional person came through and went on about, 'oh airtight, it's like living in a sealed Tupperware container' but that's getting rarer. People are starting to understand airtightness."
The appeal of the house could be subtle. "People sometimes don't know why they like the house but they talk about how quiet it is inside when it's windy, how warm on a cold day. Everyone commented on the quality but it's not just the quality of the build, it's the quality of the feeling."
There were potential buyers that kept coming back. "I've never heard of anything like it, we had people going through the house four or five times," says Glenn.
There was no dramatic bidding war in the end but the house sold in the immediate post-auction negotiation. "The fact we managed to keep our shirt during this crazy time is a real relief. Covid-19 did influence my decision, I might have hung in there for a higher price a bit longer otherwise," says Glenn. A cash buyer made for a very swift sale and settlement. "The price didn't surpass my expectations but we made money and I'm happy."
Lessons learned
Glenn broke one of the first rules of an ordinary spec home: build on the flat. The steep site definitely added cost and headache but Glenn doesn't regret it. He says he couldn't make the numbers work on an easier grade, given the lack of land in Christchurch and the premium cost of flat sections. Plus, he reckons the house he wanted to build (and sell) needed the appeal and drama offered by the elevation and views. He also emphasises the importance of working with suppliers and consultants who will do what they say they do—and whose after-sales service matches the attention they offer while quoting.
The Passive House certification didn't come through until six days after the sale because of delays in getting documentation to the certifier. This was a missed opportunity, with Glenn having to be very careful about how the house was described in marketing material. The question of certification was raised by bidders on the day of the auction and Glenn will never know whether it impacted the sale price.
Swan song
What comes next? Not another high-class spec build as you might expect; at least not for now. This project was Glenn's Christchurch swan song. His outstanding team have dispersed to other local builders doing better-than-average builds and Glenn passed on the clients he'd enthused about Passive House to Ethos Homes.
Glenn and his wife are leaving the straw bale house he built for his family nearly 20 years ago and moving to Nelson. Glenn reckons he's due some quiet time in the sun after a gruelling decade helping clients work through the complexity of rebuilding after the Christchurch earthquakes. He's taking some time to recharge his batteries and consider what's next for him and for Harley Builders Ltd.
Hopefully Christchurch's loss will be Nelson's gain. When the history of New Zealand's high-performance homes is written, Glenn Harley's name will be prominent as a pioneering tradesman. His success creates a precedent that gives confidence to the builders who will follow in his footsteps.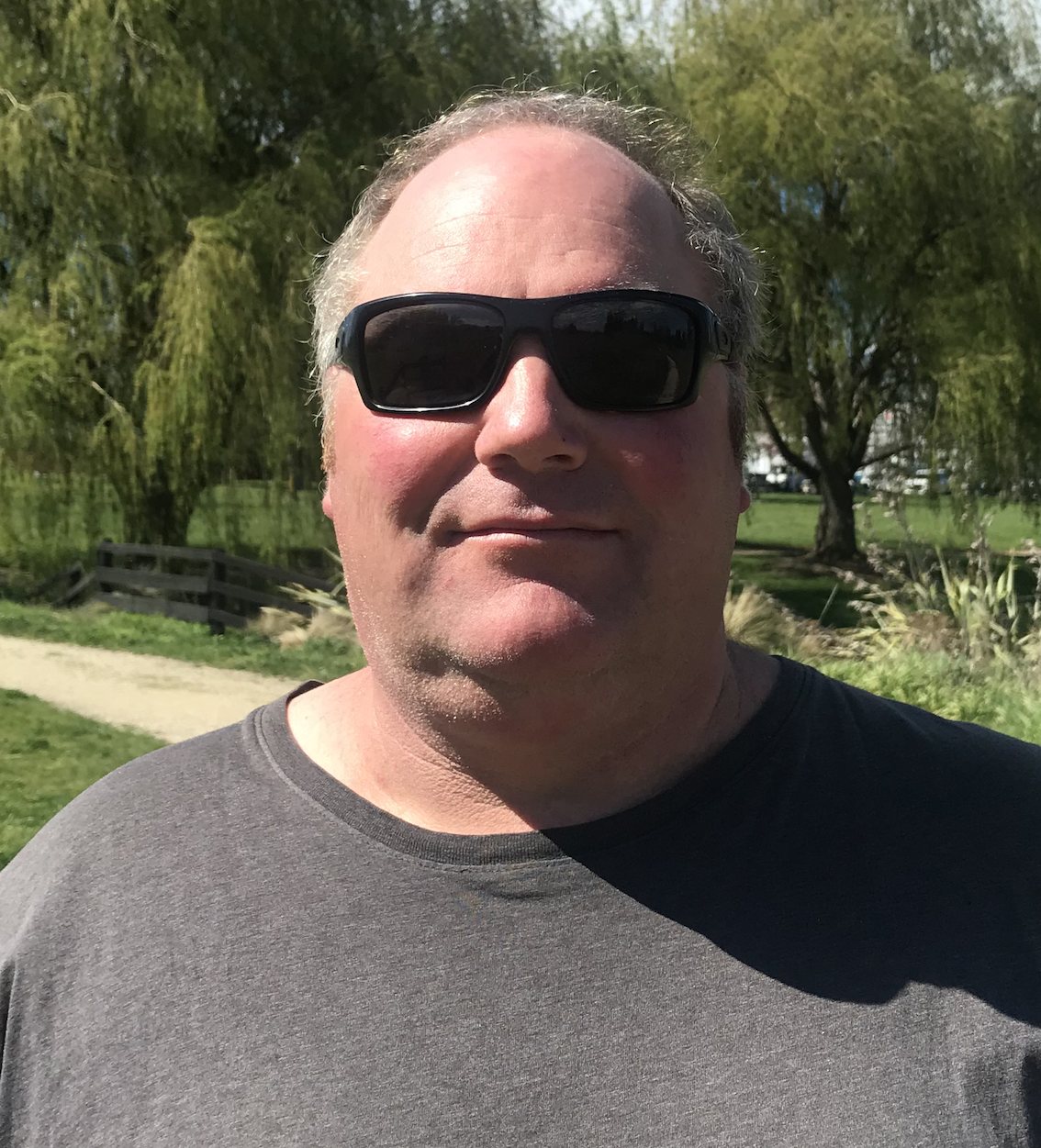 Glenn Harley is already enjoying the sunshine in Nelson.
What motivated Glenn to back himself and build a house for a client he hadn't met yet?
Free rein
The first was freedom: the freedom to direct a design he knew would work but most of all to build it how he wanted, without having to educate or convince his client or even just wait for an OK.
It's clear that Glenn relished the speed and immediacy with which he and his team could respond to problems on site and that they took pride in solving them in a considered way. (Check out the case study for more details about the construction.)
Flexible scheduling
Glenn's crew worked on this house around other projects they were building for clients. They also built the framing in a very large shed at Glenn's home—work they could do when they were rained out on other jobs. One of his apprentices is a qualified engineer and he detailed the frames. It cost less than pre-fabricated framing and the quality was far superior.
Show not tell
Glenn says past clients have been very kind in opening up their houses to share the Passive House experience with people considering building in this way. But building on the Mt Pleasant site meant more flexibility and Glenn used it to the hilt. He estimates 35 groups toured through the house, at all stages of construction. In this way it was a powerful education tool.