Mt Pleasant
Christchurch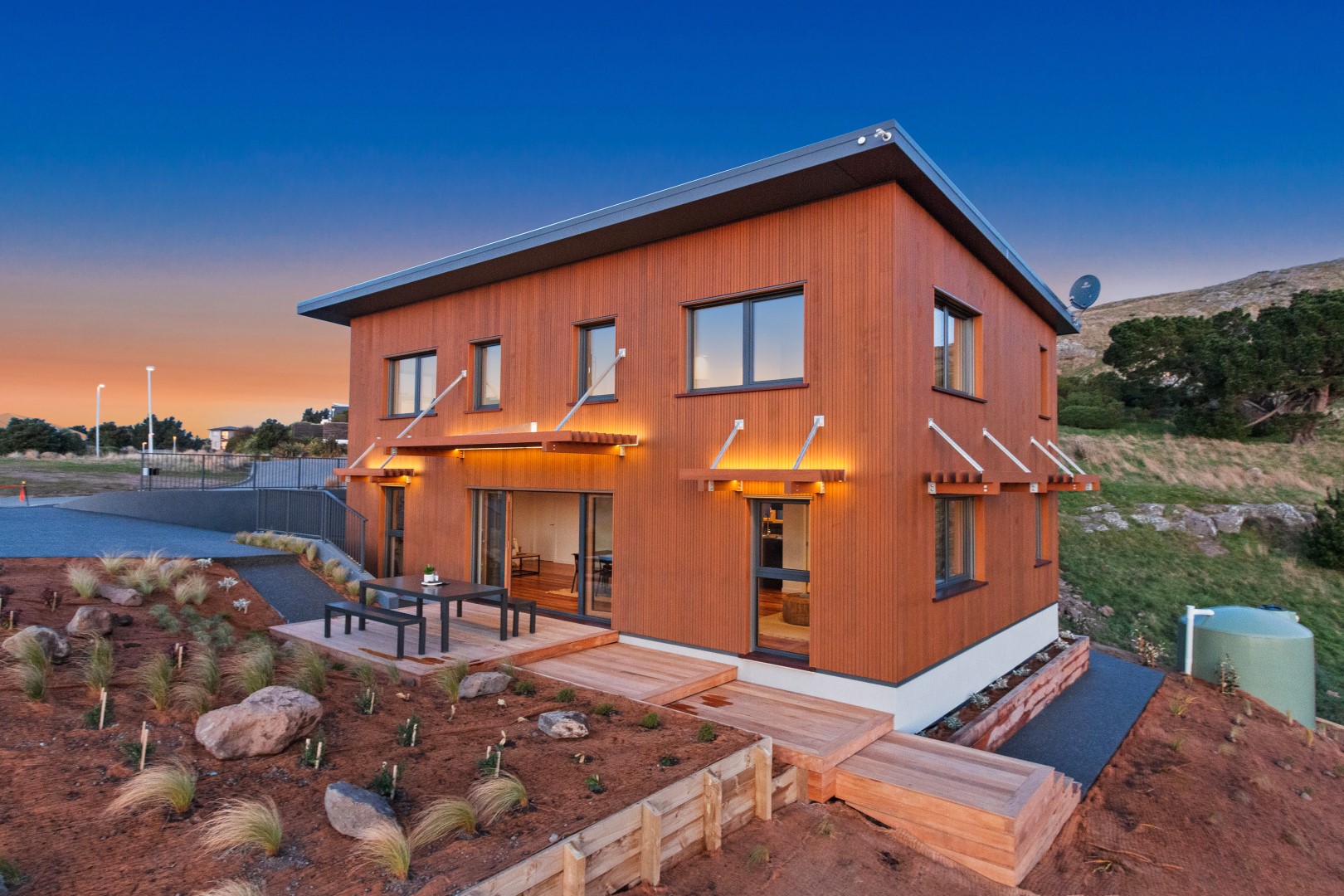 Building this stunning home presented several challenges, overcome by an experienced Passive House builder who understood what he was working with. As with many projects in Christchurch, ground conditions were difficult and increased costs. Liquefaction risk was not the issue here, rather very rocky conditions and a "big nasty rock" right in the middle of the site.
Part of the home sits on a suspended slab that went over the top of that rock. Phenolic cotton pads provided the thermal break at the junction between the steel beams and the slab.
The builders constructed the timber framing themselves and this allowed for flexibility and higher wall performance. The walls are 240 mm thick with a 45 mm service cavity, a double stud construction filled with blown insulation. In part this decision was driven by a wish to set in the external blind boxes so they would be unobtrusive. The blind boxes are built into the top of the window and provide shading of hot summer sun.
The thicker-than-usual walls add to comfort and also help moderate the risk of overheating. Additionally, timber awnings are strategically sited to protect glazing on the west sides. Thanks to such careful design, the house is at very little risk of overheating, despite the windows that take in the views to the Southern Alps to the north-west.
The builder was also the project owner and he went to the architect with a detailed brief that included open plan living spaces. The wind in the Port Hills can get wild and the engineer was initially concerned about the span of the living areas. The builder proposed double internal walls on either side of the kitchen to provide additional bracing and this proved a satisfactory solution.
Passive House Metrics
Heating Demand

20.3 kWh/m2/year

Heating Load

9.8 W/m2

Frequency of Overheating

1.1% year over 25°C

TFA

177.6 m2

Form Factor

2.9

Air leakage @ 50Pa

0.5 ACH/hour

PER demand57.0

 kWh/m2/year
Passive House Database - None
Construction Details Average Values
U-value External Walls

0.13 W/(m2K)(R7.7)
240mm Timber with Jet Stream Max and an insulated 45mm cavity

U-value Floor

0.22 W/(m2K)(R4.5)
Slab on grade with 100mm XPS and raised floor with Stahlton beams and 150mm EPS

U-value Roof

0.12 W/(m2K)(R8.3)
300mm Hyspan beam with Jet Stream Max

U-value Glass

0.52 W/(m2K)(R1.9)
Thermadura - Silverstar EN2plus (4:/20/4/20/:4 90% Ar)

U-Windows

0.97 W/(m2K)(R1.1)
Thermadura DesignLine90

Ventilation Efficiency

78.80%
Zehnder ComfoAir350