10 Bushland Place
Christchurch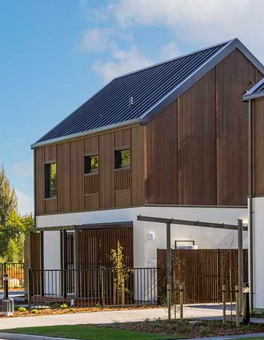 8 and 10 Bushland Place are the first two homes to be completed in an entire subdivision targeting Passive House Plus certification. This is an ambitious undertaking with the heavy lifting being done by experienced Passive House builders at Ethos Homes.
Peter Bielski of Ethos was approached by landowner Ernst Frei on the basis of his team's reputation and track record. Peter in turn brought in consultants, suppliers and subcontractors he has worked with on multiple Passive House projects. The combination has produced a master planned community that nests Passive House Plus performance in a wider context of positive environmental and social outcomes (read more at Bushland Park's website).
The design is characterised by a small footprint, an efficient form factor and optimal orientation. PV arrays are grid-tied but the systems are also backed up with individual batteries. 
Modular timber panels were pre-fabbed in a factory set up in an existing shed on site. This is a technique Peter learned in Germany and favours for reasons of cost efficiency, performance and quality. These panels (walls, floors, mid-floors and roofs) are extremely fast to stand up on site. 
These two homes use Weathershield WarmCore Hybrid Aluminium triple-glazed joinery, manufactured in Christchurch. The builders like working with a local manufacturer—the supply chain is only the distance across town and expert support is immediately on hand. Another advantage is the unglazed units are much lighter and less fragile to transport, handle and install. The units are glazed on site.
The airtightness results were exceptional and a testament to the material choices and experience of the construction team. Metrics hardly vary between the two houses and are the result of slight differences in shading.
Passive House Metrics
Heating Demand

15.6 kWh/m2/year

Heating Load

9.4 W/m2 

Cooling Demand

2.5kWh/m2/year

Cooling Load

7.7W/m2

TFA

142.7m2

Form Factor

2.8

Air leakage @ 50Pa

0.3 ACH/hour

PER demand

39.1kWh/m2/year
Passive House Database - TBA
Construction Details Average Values
U-value External Walls 

0.23 W/(m2K)(R4.3)

140mm + 45mm insulated timber framed wall with Terra Lana insulation

U-value Floor

0.22W/(m2K)(R4.5)

Concrete waffle pod slab with EPS pods and 100mm XPS insulation beneath

U-value Roof 

0.15W/(m2K)(R6.8)

240mm HyJoists with EPS in between the flanges and Terra Lana batts elsewhere, 45mm insulated service cavity

U-value Glass

0.59 W/(m2K)(R1.7)
 Metro Xcel/Xtreme triple glazing with Chromatech Ultra spacer

U-Windows

1.1 W/(m2K)(R0.9)

Weathershield WarmCore

Ventilation Efficiency

88%
1381vs03 Wolf CWL-2-325