Beckenham Passive House
Christchurch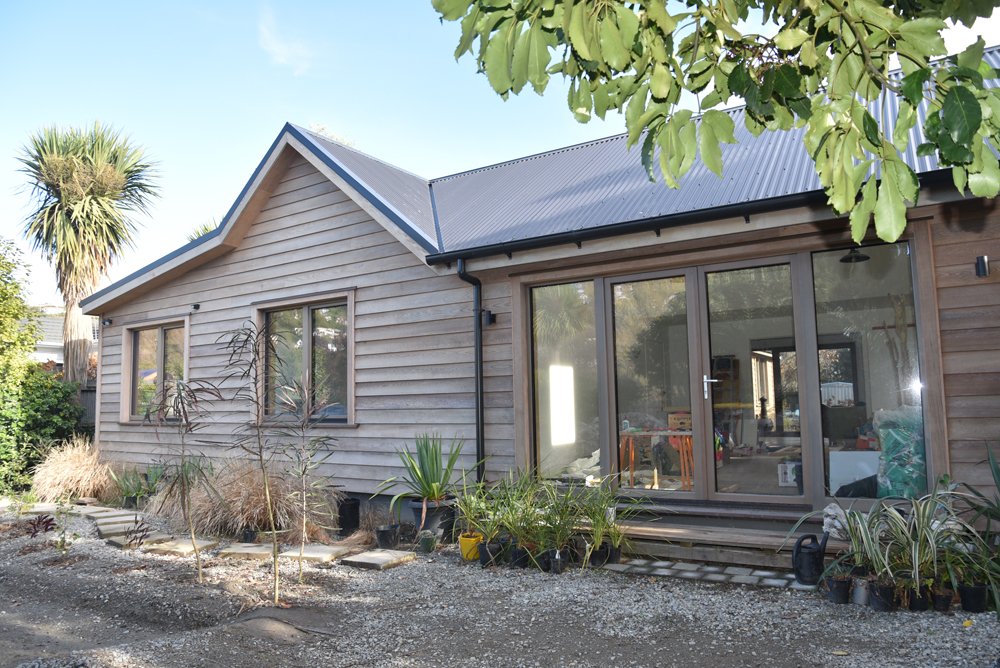 This beautiful cedar-clad family home is delighting its owners, a reward after years of heartbreak and trials. Their former Christchurch home was demolished following the earthquakes and the construction of this Passive House on the same site had its challenges.
This three-bedroom home is classy on the outside and high-performing on the inside yet some of its most impressive engineering is hidden in the ground. Built on a highly insulated concrete slab, the foundation is also edged with piles, meaning jacks and airbags could be used to re-level the foundation should that ever be necessary. The site is soft ground near the river with potential for large lateral shifts in seismic events.
The house is average-sized for its neighbourhood (170m2 TFA plus a detached garage) but it sits on a small site and access was incredibly tight during construction.
It is a timber-frame construction with wool-blend insulation and high-performance European windows and doors assembled in New Zealand. Triple-glazing is used, standard for this level of building performance in the Christchurch climate.
There is also old amongst the new: the owners made a kitchen bench out of framing timber recycled from the previous house.
Builder Glenn Harley is entirely on board with Passive House construction, having built four certified homes since 2015. He and one of his team are now certified PH tradespeople and he's regularly approached by tradies wanting to join his company because of the PH builds he is doing.
Passive House Metrics
Heating Demand

21 kWh/m2/year

Heating Load

9 W/m2

Frequency of Overheating

-% year over 25°C

TFA

170 m2

Form Factor

3.8

Air leakage @ 50Pa

0.6 ACH/hour

PER demand

49 kWh/m2/year
Passive House Database - None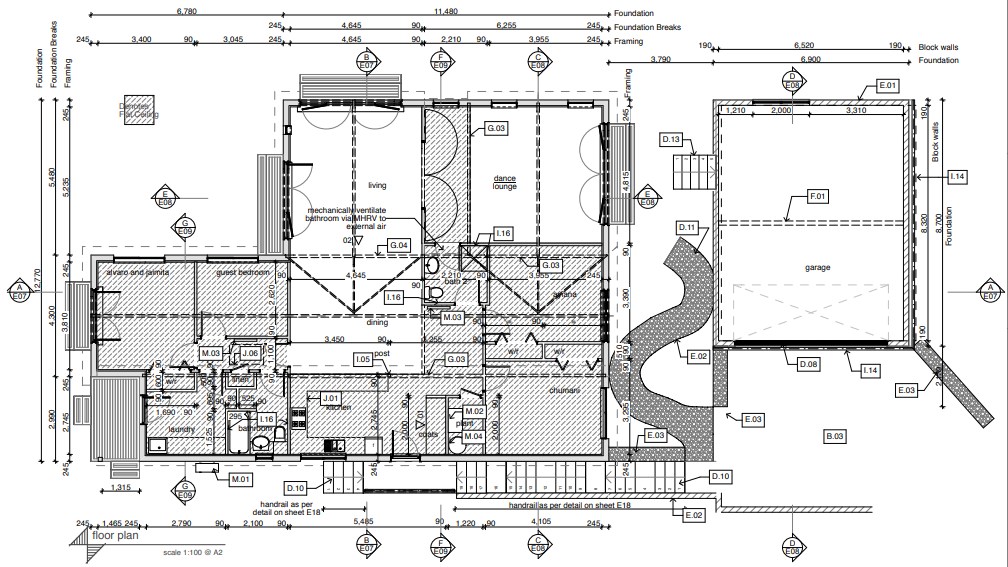 Construction Details Average Values
U-value External Walls

0.21 W/(m2K)(R4.8)

Cedar cladding, 20mm cavity, Solitex Extansana, 9mm Ply, 200mm LVL studs with 190mm R5 Terra Lana, Intello, 45mm battens with R1.2 Terra Lana, 10mm plasterboard

U-value Floor

0.26 W/(m2K)(R3.8)

125mm reinforced concrete, 300mm deep EXPOL EPS pods with reinforced concrete ribs, 125mm reinforced concrete, 100mm EXPOL EPS

U-value Roof

0.16 W/(m2K)(R6.3)

0.55mm colorsteel, 55mm cavity (90x45 perlins, 45x10 counter battens),Solitex Mento, 12mm Ply, 300mm LIB rafters with R6.4 TerraLana, Intello, 35mm cavity, 10mm plasterboard

U-value Glass

0.52 W/(m2K)(R1.9)

Thermadura Triple Glazing

U-Windows

0.88 W/(m2K)(R1.1)

Thermadura

Ventilation Efficiency

83.3%

Zehnder ComfoAir Q350