Brick House
Wānaka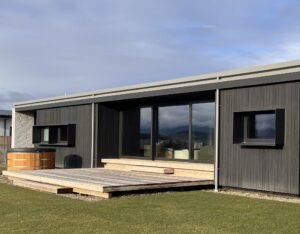 Wanaka is one of New Zealand's most challenging climates: very hot summers, very cold winters and with harsh UV light. This project's brick cladding was an inspired choice that serves multiple functions. The house has an entirely modern aesthetic but the construction technique of brick on a concrete ring foundation and a suspended timber floor would be instantly familiar to a builder from the 1940s. The design marries this traditional foundation system with modern innovations like SIP and all the technological wizardry included in a Passive House building.
The clients approached Rafe Maclean with a brief that included low carbon and sustainability. Fundamental decisions were made early, resulting in a simple rectangular form with a garage forming an L-shape. It's a case, says Rafe, of getting the form factor right but "not losing the excitement of good architecture". Energy modelling at design stage provided confidence that big windows taking in outstanding views wouldn't compromise performance.
Unlike most New Zealand Passive House homes, this project steered clear of a concrete slab because of its high embodied carbon. Instead, wire-cut painter clay brick and SIP exterior walls sit on a concrete blockwork perimeter foundation, which also supports the stringers for the floor joists. It's an elegant solution that avoids any thermal bridges at these crucial junctions.
Cost is not a barrier to specifying suspended floors; Rafe considers they are less expensive to build compared to a concrete slab foundation. There are other considerations, including how the threshold between inside and outside is managed, and a suspended floor takes more time on site. Sequencing needs to be very well thought out as it's far easier to install insulation between the joists from above but exposure to weather needs to be considered.
There's a sweet spot to find with regard to ventilation in the crawl space, says Rafe. The more it's closed off, the better the insulation performs. However, some amount of ventilation is required. There's a sweet spot to be found, and it's also influenced by the size of the house.
A low-maintenance cladding was specified for this holiday home. Timber doesn't fare well in the harsh UV light and very long summer days here. Metal cladding was ruled out—too harsh, too shiny, too much embodied carbon—but the clay brick ticked all the boxes. 
Exposed brick was brought inside too. It's not just cosmetic; it adds some carefully calculated thermal mass too. This is in marked contrast to Rafe's early designs like George House which are thermally light. The bricks' mass evens out temperature fluctuations, says Rafe. "It acts as a battery, but we're careful not to do too much." He says predicting the effect thermal mass will have is complex, depending on many factors including the material, its colour and whether and when the sun reaches it.
The house was completed in April and the owners have enjoyed their visits over the ski season. Heating is provided by an air-to-air heat pump with just one outlet in the central living spaces. Bathroom floors have under-tile heating. In winter, especially when the sun hasn't been out for days, it can take a period of time for the house to warm up. Enabling remote control of the heating system, so it can be switched on in advance of the family's arrival, is one solution being considered.
Passive House Metrics
Heating Demand

15.4kWh/m2/year

Heating Load

12.1W/m2 

Cooling Demand

3.7kWh/m2/year

Cooling Load

7.6W/m2 

TFA

207.1m2

Form Factor

3.7

Air leakage @ 50Pa

0.5 ACH/hour

PER demand

28.3kWh/m2/year
Passive House Database - TBA
Construction Details Average Values
U-value External Walls 

0.15 W/(m2K)(R6.9)
165mm NZ SIP panels with a 45mm service cavity insulated with Terra Lana batts

U-value Floor

0.17W/(m2K)(R5.9)
240mm deep timber floor on piles with R6.2 Terra Lana batts and ply beneath

U-value Roof 

0.12W/(m2K)(R8.1)
290mm timber framed roof with R7.2 Terra Lana batts, Intello air control layer and 45m insulated service cavity

U-value Glass

0.55 W/(m2K)(R1.8)
Silverstar EN2plus and Isophon Glas EN2plus

U-Windows

0.9 W/(m2K)(R1.2)
 Thermadura Designline 90 Larch

Ventilation Efficiency

83%
ComfoAir Q350