Woodlau Rise
Christchurch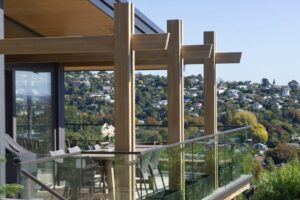 Architectural Designer Glenn Murdoch was in the very first cohort to train as a Passive House designer in New Zealand and his practice is now entirely focused on high-performance buildings. He says all his clients now walk in the door with some degree of awareness of the Passive House standard. Woodlau Rise's owner was no exception and Passive House certification was part of his very well-written brief. (The client is himself an architect, although in the field of commercial projects.)
The site perches on a steep hillside and had been cleared after the Canterbury earthquakes damaged the previous house beyond repair. The levels and bottom retaining wall were established, providing a frame for the design. The site offers stunning views but that brings with it the risk of overheating. Balancing glazing and the views it frames against overheating is the hardest challenge for New Zealand Passive House designers, according to Glenn.
The home also complies with the Lifemark Standard, making it easily usable and accessible for the owners as they become less mobile with age.
While a heat pump (for air-conditioning in summer) was strongly recommended, the client wasn't keen. Instead, the design incorporates large overhangs to exclude summer sun and keep internal temperatures comfortable.
The house is a timber frame on a concrete slab, the approach that has become the most common choice for building to a Passive House level of performance in this country. Glenn is not a fan of structural insulated panels and likes instead to use a methodology that is familiar to any New Zealand tradesperson and doesn't require specialist skills or tools on site.
Happily, this project was largely completed before the impact of Covid-related supply-chain issues made itself felt.
Passive House Metrics
Heating Demand

23.8kWh/m2/year

Heating Load

10.3W/m2

Frequency of Overheating

1.7%

TFA

115.3m2

Form Factor

3.5

Air leakage @ 50Pa

0.6 ACH/hour

PER demand

58.2kWh/m2/year
Passive House Database - TBD
Construction Details Average Values
U-value External Walls 

0.20 W/(m2K)(R5.12)
Insulated 140mm Timber Stud wall with insulated 45mm service cavity

U-value Floor

0.28 W/(m2K)(R3.6)
90mm XPS above a concrete slab

U-value Roof 

0.11 W/(m2K)(R9.4)
240mm I-Joists insulated with Jet stream max and an insulated 90mm service cavity

U-value Glass

0.55 W/(m2K)(R1.8)
4ESG/18Ar/4/18Ar/4ESG

U-Windows

1.0 W/(m2K)(R1)
Bertrand S9000

Ventilation Efficiency 

79%
Stiebel Eltron LWZ 180