I recommend against combustion devices in homes—all of them. Using gas to cook is particularly bad, with health impacts related to the indoor air pollution it causes. (American think tank RMI calls it a hidden health crisis).
If a client specifies a gas hob, first I attempt to talk them out of it. After all, top chefs as Neil Perry, Tetsuya and those at the Veu du Monde all exclusively use induction cooktops. I'm very persuasive, but if that failed, I would specify a kitchen rangehood that extracts outside rather than a filtered re-circulation hood. This is not a perfect solution as rangehoods are often designed for appearance rather than functionality and capture efficiencies can be as low as 15%: fully 85% of the pollutants remain inside the home to be diluted and finally ventilated out by the MVHR or open windows.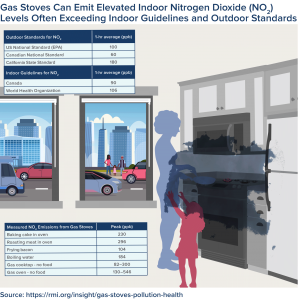 The RMI released an excellent report on gas cooking: Gas Stoves: Health and Air Quality Impacts and Solutions by Brady Seals and Andee Krasner
"Burning gas in buildings is not only a threat to climate action but also to human health, as these appliances are sources of indoor air pollution. Gas stoves, particularly when unvented, can be a primary source of indoor air pollution. What's more, a robust body of scientific research shows the pollutants released by gas stoves can have negative health effects, often exacerbating respiratory conditions like asthma."
This article comes from Australia's The Fifth Estate:
Cooking with gas: bad for the planet, and bad for your health by Poppy Johnston.
"Australia's federal government looks like it's digging its heels in on gas but be warned, cooking with it is bad for your health. And while rangehoods can help, not all of them were created equal. In fact, the best ones are so loud people don't turn them on."
Plus there's this scientific paper from 2018: Damp housing, gas stoves, and the burden of childhood asthma in Australia by Luke D Knibbs, Solomon Woldeyohannes, Guy B Marks and Christine T Cowie
"Conclusions: Exposure to damp housing and gas stoves is common in Australia, and is associated with a considerable proportion of the childhood asthma burden. Strategies for reducing exposure to indoor dampness and gas combustion products should be communicated to parents of children with or at risk of asthma."
—Jason Quinn
12 June 2020