We're very frequently asked, 'How many Passive Houses are there in New Zealand?'
Well, as of 1625 hours, 11 July 2022, there are: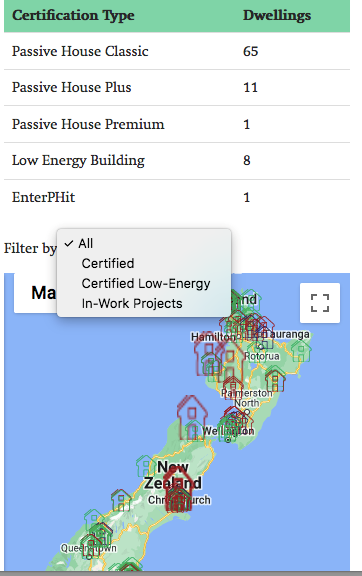 That number is changing rather quickly now and it's hard even for us to keep up. So, predictably, we designed a little techie fix: now there's a live counter you can refer to 24/7.
It breaks down projects by certification type (all five) and is included with the page that maps all the New Zealand projects. Important note: all locations are generalised, for the sake of the building owner's privacy. If you zoom right in on the map, you'll find we've located projects at a small town museum, a scenic reserve, the middle of a lake … 
But each project's icon will link to its case study or profile, so you can find out more information about the construction, date of construction and the clever professionals involved. Since our inception as certifiers, Sustainable Engineering has funded professionally prepared, extensive case studies on every Passive House project we certified. We now can't keep up, such is the number of certifications: happy problem to have. 
In order to stay up-to-date, we will move to publishing a slimmed down profile on each project. Don't worry, it still has all the geeky detail the industry loves, like construction materials and method and professionals involved. And we'll still publish at least a dozen full case studies each year, complete with floor plans, elevations, professional photographs and a discussion of the project. You can find them all here.