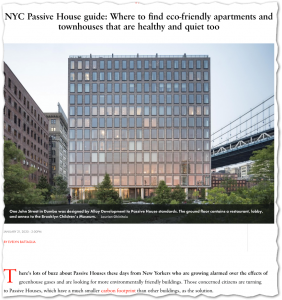 New York City is a hot spot of Passive House development due to forward-thinking owners and developers and encouragement from the city government and utilities.
New apartment blocks are being built to Passive House standard and there's also been a surge in retrofitting townhouses and historic brownstones to the same level of performance.
Shutting out noise from the street and providing clean filtered air inside are key drivers of the enthusiasm for Passive House in this city of 8.7 million people.
"Are there large-scale Passive House apartment buildings? 
Absolutely. It's the uptick in these shiny new developments that are really putting Passive House on the map.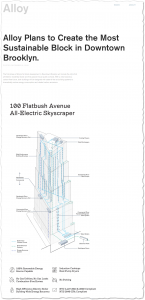 … Alloy Development sold out its Dumbo Townhouses in 2013, a full two years before buyers could take occupancy. 
Its next project is 80 Flatbush, which covers an entire block in downtown Brooklyn and will include the city's first all-electric 38-storey skyscraper 'with the goal of abandoning fossil fuel reliance,' says Pires. (It also includes the city's first Passive House public schools.)
— 9 February 2020