Check this out: a lovely flipbook with in-depth case studies of the projects from the Passive House Architectural awards in 2021. Lavishly illustrated, illuminating text and lots of drawings: this is a feast of information bound to inspire. Projects from around the world feature and diverse typologies: multi-unit residential buildings, educational buildings, offices, retrofits and more.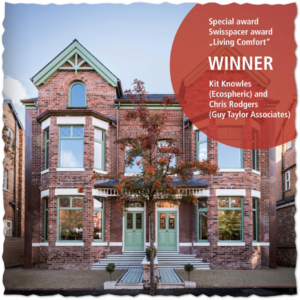 My own favourite is Zetland House in the UK, a certified EnerPHit Plus retrofit of a stunning building from 1894. I usually love simple forms best but this one does speak to me. The form factor is improved by it being a three-level duplex—and the very modern rear facade is super cool. Find more details on pages 76-81.
The flipbook can be downloaded, via an icon on the bottom right of the flipbook viewer.