The Leith Valley Passive House in Dunedin is New Zealand's newest certified Passive House Plus home and can boast of an extraordinary blower door test result: 0.17 air changes per house (ACH) as measured by the final blower door test. 
Builder Wayne Dyet (WD Homes) is a competitive man with an amazing eye for detail and he's determined to construct a building under 0.10ACH. His team has two more Passive House projects underway and he is planning on bettering his own record.
How did he do it? Especially seeing as these homes are built with timber framing and an air control membrane. (The only two New Zealand Passive House homes with even lower ACH results are both built with structural insulated panels (SIP), an inherently more airtight construction material.)
There's no way to hit such a low airtightness number without being completely meticulous, says Passive House certifier Jason Quinn. "The construction crew has to be totally focused without letting up. This case illustrates why blower door testing (and particularly the final test) is such a good proxy for build quality."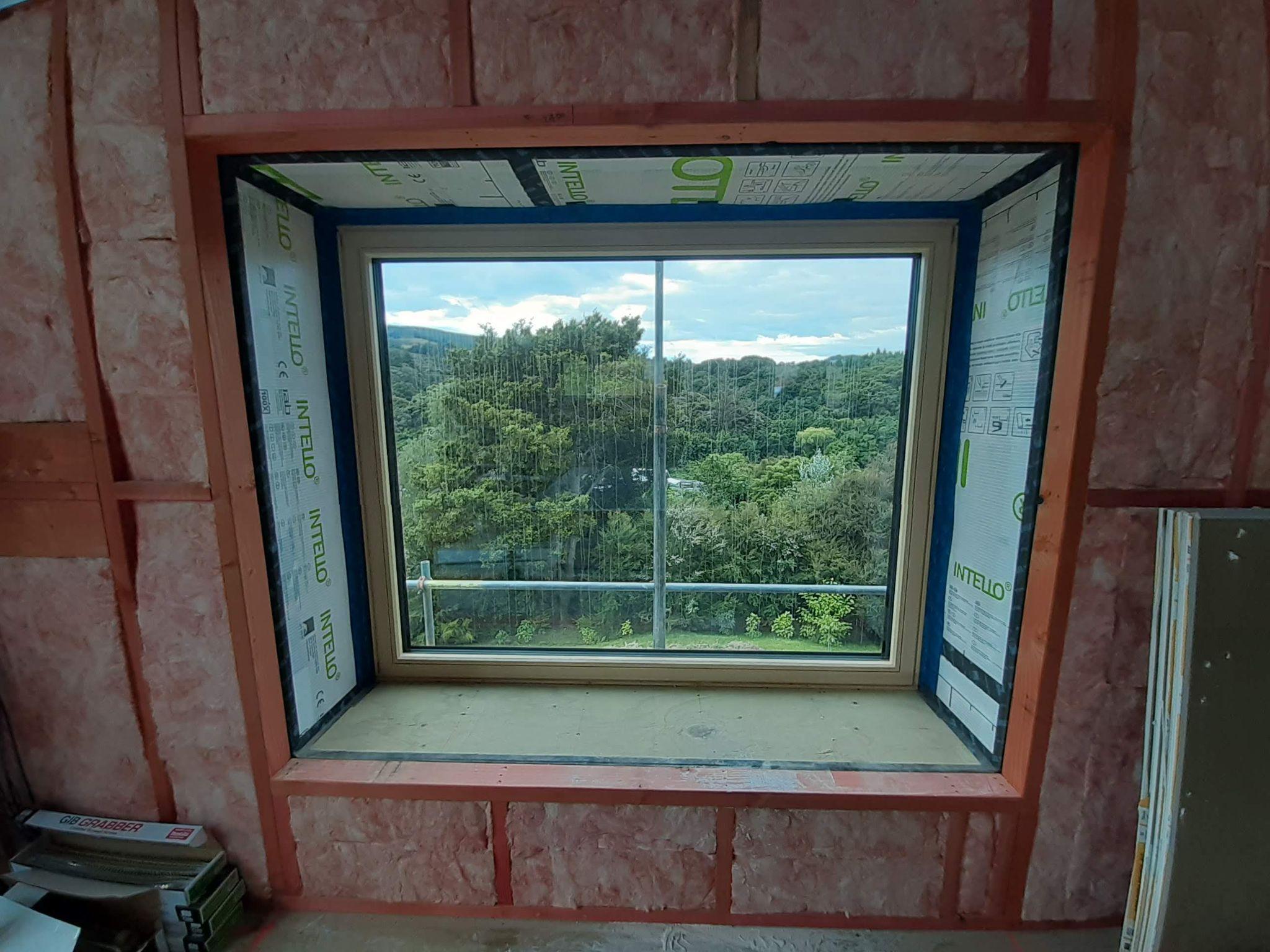 In fact, the margins in this design were extremely close; the building met certification on the basis of the 10.2 heating load result. That's very close to the upper limit of 10.5. This heating calculation takes into account the airtightness result. "PHPP accounts for infiltration energy loss so the more airtight, the lower the heating load," explains Jason. "This project only made it to Passive House Plus because of the quality of the construction."
There were also atypical aspects of the design that meant it wasn't business as usual for running services. The skillion roof precluded the usual services cavity in the ceiling. Ducting for the MVHR system runs through the walls instead but the design required that it exit and re-enter the airtightness layer. That was a complexity that Wayne's team clearly managed flawlessly.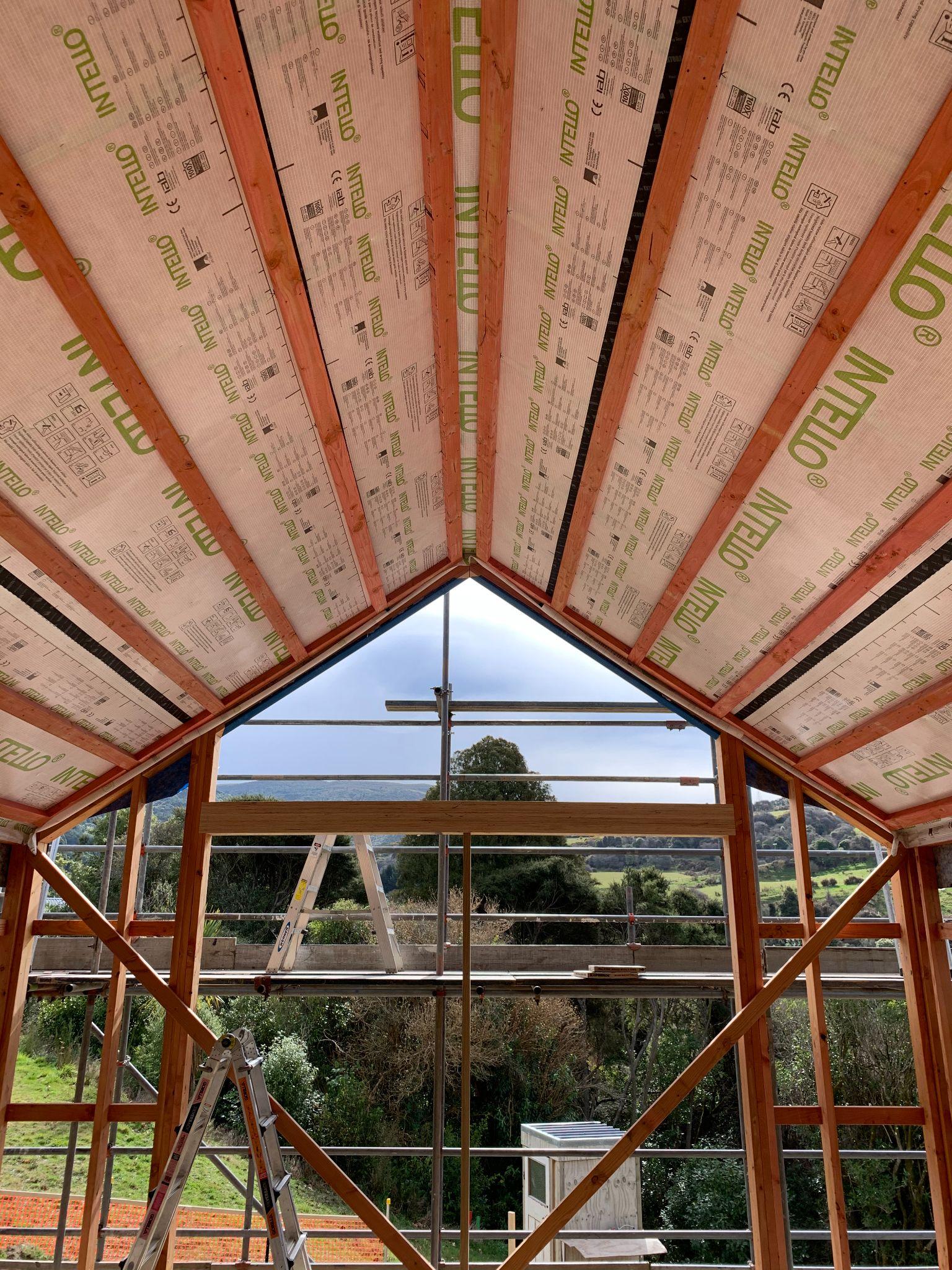 Wayne has gone above and beyond duty, even building test walls and collaborating with Otago University to get preliminary air-tightness data. The walls are built from OSB that Wayne considers an inherently slightly leaky material. By his calculations, the OSB reduces airtightness by about 0.06ACH, making his achievement even more impressive.
Wayne grew up around building sites but didn't follow his dad straight into the trade. He trained in the airforce as an engineer and agrees it has made him a better builder. "When you fix an aircraft, you have to be extremely methodical and do everything in exact accordance with the manual. If you don't and the plane crashes, hundreds of people are going to die," he says. "That methodical work ethic absolutely transfers over to the building site."
WD Homes now has four staff as well as Wayne (and his newest apprentice is the son of the Leith Valley Passive House owners). Wayne's team share his zealous interest in the details and he says his competitive streak is contagious.
Wayne has collaborated with the Passive House designers and architects at Architype on three previous certified Passive House builds. Wayne speaks highly of Architype design director Tim Ross and says there's a good, open line of communication and they have been learning together.
Wayne chooses to work with the same team of sub-trades in order to rely on and continue developing their expertise with Passive House methodology. Plumbing is key he says, as out of all the sub-trades, it  creates the largest and most awkward penetrations of the airtight layer. Ultimately the responsibility for airtighting those penetrations is Wayne's but he and the plumber work together, ensuring nothing is overlooked.
Wayne should be looking over his shoulder though: Peter Bielski's team at Ethos Homes performed the preliminary blower door tests on the first two homes being constructed at Bushlands Park Passive House neighbourhood in Christchurch this month. #10 Bushland Place was 0.26ACH … and next door at #8 was 0.16ACH. Bushland Park homes are being built with modular panels (not SIP) prefabricated on site. The interest in the final test results will be keen!
Photo credits: Architype