Leith Valley Passive House
Dunedin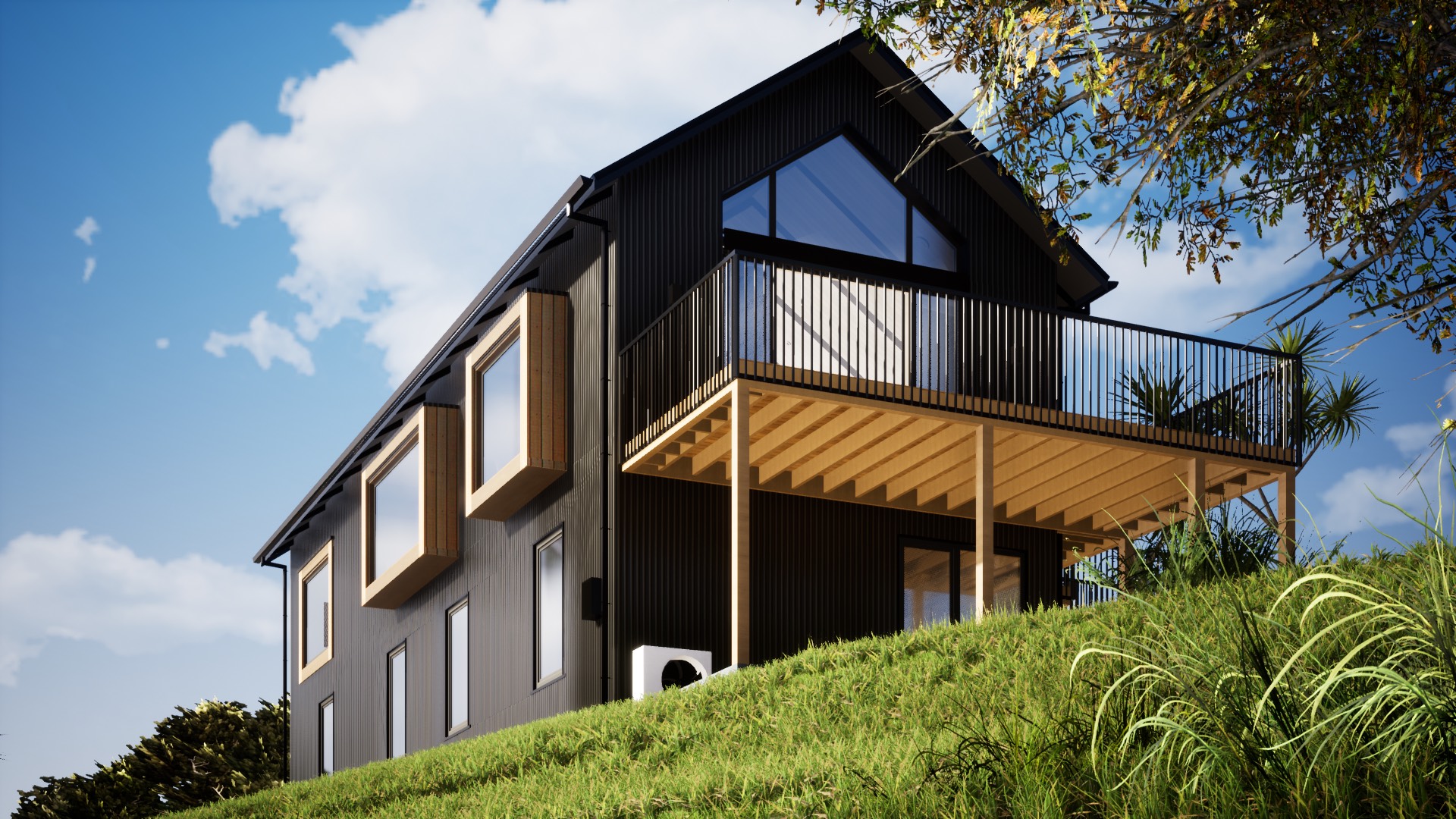 New Zealand's newest Passive House Plus is home to a couple—and their two electric cars. Their latest monthly power bill was about $50, of which fully $30 was line and other fixed charges. And that's in Dunedin, still chilly in October!
It will be equally as comfortable and still miserly on energy even during heatwaves in summer. External blinds will provide vital shading to prevent over-heating and elegantly roll up into pockets above the frame when not in use. A reverse cycle heat pump also brilliantly partners with the 6kW PV array on the roof. If the sun's out and temperatures are high, the electricity generated onsite will power the small amount of air-conditioning needed to keep temperatures inside at a stable, comfortable level.
The home's performance is also remarkable, with an outstanding air tightness result of just 0.17ACH. This is bettered by only two Passive House homes in New Zealand (Kowhai House in Dunedin and Holmes House at Hawea Flat). Both of those were built with structural insulated panels (SIP), an inherently more airtight construction material compared to the air control membrane and timber framing used for the Leith Valley Passive House.
Fibreglass batts were specified, and  installation quality is absolutely vital if that material is going to perform to its rating according to Passive House certifier Jason Quinn. The photos provided for construction review impressed the whole Sustainable Engineering Team; Jason rated the work by WD Homes as the best insulation installation he's ever seen. "It was installed with exceptional precision. If something hidden in the walls is done that well, I'm confident it's all good everywhere," he says. 
The house is a simple form and modestly sized at 135m2 TFA. The cathedral ceiling is striking and was carefully designed to avoid the need for steel beams (or even engineered timber). There are exposed rafters also on the soffits and 'pop-out' windows that create window seats. It sits on a sloping site with extensive bush views.
Passive House Metrics
Heating Demand

16.9 kWh/m2/year

Heating Load

10.2 W/m2

Frequency of Overheating

-

TFA

135 m2

Form Factor 

3.4

Air leakage @ 50Pa

0.2 ACH/hour

PER demand

35.4 kWh/m2/year
Passive House Database - 6699
Construction Details Average Values
U-value External Walls 

0.23 W/(m2K)(R4.3)
140mm + 45mm Insulated Timber framed wall

U-value Floor

0.17 W/(m2K)(R5.9)
Concrete Slab with 220mm EPS insulation underneath

U-value Roof 

0.10 W/(m2K)(R10)
Pitched Timber roof with 370mm insulation/li>

U-value Glass

0.52 W/(m2K)(R1.9)
Thermadura - ClimaGuard Premium2 (en=3%) (4:/20/4/20/:4 90% Ar)

U-Windows0

0.81 W/(m2K)(R1.2)
Thermadura Designline 90 Passive

Ventilation Efficiency 

89%
Zehnder ComfoAir 350