Roys Peak Farm House
Wanaka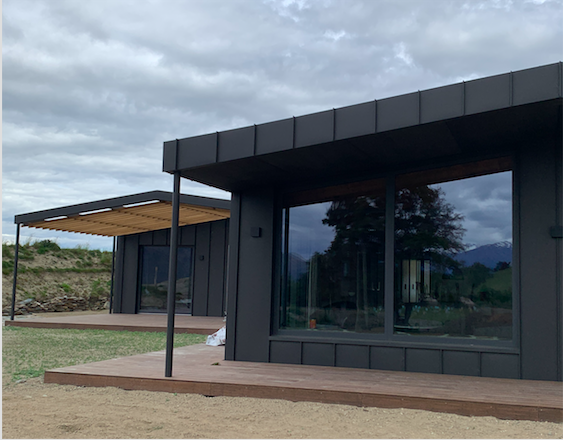 The owners of this large landholding on the western shores of Lake Wanaka have an ambition to build a luxury lodge, as previewed in Jason Quinn's book on Passive House in New Zealand. Meanwhile they have built a striking three-bedroom Passive House home—no small achievement given the highly demanding constraints on building in this designated significant natural landscape zone.
The clients are Passive House pioneers, already owning the South Island's first certified Passive House. That was architect Rafe Maclean and builder Isaac Davidson's first Passive House project too, and Rafe says everybody involved learned a lot. Rafe and Isaac have gone on to collaborate on multiple Passive House projects since and were brought back in by the clients to create Roy's Peak Farmhouse.
The house is built from SIP walls and roof on a concrete slab sandwiched between layers of insulation. It's clad in powder-coated aluminum sheets, a response to the clients' requirement for a low maintenance finish. Rafe concedes the embodied carbon is high but this is tempered by its extremely long lifespan. (It also makes feasible an intriguing solution to stormwater. This is a building with no guttering. Instead, rain flows off the roof and down the walls into in-ground troughs. This idea was proposed by the roofing contractors.)
The clients are entirely committed to Passive House performance, especially since their experience of the comfort George House offers. However there were some subtle changes included in the brief based on living in George House with two teenagers, such as better acoustic separation. Mechanical ventilation systems typically allow for a gap under bedroom doors (an "undercut") to ensure sufficient circulation of air. Of course the undercut also allows noise to travel. The farmhouse's bedroom doors fit snugly and the air supply in each bedroom is individually balanced. This detail is a first for Rafe's practice, but ventilation suppliers Fantech were unfazed and addressed this requirement early in the planning stages.
The clients also favour cool interior temperatures during the summer and so five reverse-cycle heat pumps have been installed to deliver air-conditioning in each bedroom and the two living areas. The cooling demand is of course greatly reduced due to the home's excellent thermal performance.
Wanaka is an outlier climate in New Zealand, with very cold, rather dry winters and hot summers. It creates an interesting challenge for Passive House designers: how to insulate enough to maintain a comfortable temperature during winter but not so much that the building overheats in summer? It highlights the critical value of design-stage energy modelling, where different variables and their interactions can be tested, and accurate predictions made as to built performance.
The home consists of three bedrooms, three bathrooms, open plan living and a large media room in a TFA of 188m2. A separate building houses the garage and another large bedroom and ensuite. This was constructed from the same materials but is not included in the Passive House certification.
Passive House Metrics
Heating Demand

9.9 kWh/m2/year

Heating Load

9.5 W/m2

Frequency of Overheating

-

TFA

188.1 m2

Form Factor 

3.5

Air leakage @ 50Pa

0.4 ACH/hour

PER demand

30.8 kWh/m2/year
Passive House Database - 6756

Construction Details Average Values
U-value External Walls 

0.15 W/(m2K)(R6.7)
165mm NZSIP panel with 45mm insulated service cavity

U-value Floor

0.12 W/(m2K)(R8.3)
220mm EPS insulation / 100mm concrete slab / 75mm XPS insulation / flooring

U-value Roof 

0.12 W/(m2K)(R8.3)
215mm NZSIP panel with 45mm insulated service cavity

U-value Glass

0.55 W/(m2K)(R1.8)
Ecowindows - Star 3 (4be-18-4-18-be4)

U-Windows

0.9 W/(m2K)(R1.1)
Döpfner Premium IV78

Ventilation Efficiency 

87%
Zehnder Q350