Lower Saddle House
Tahekeroa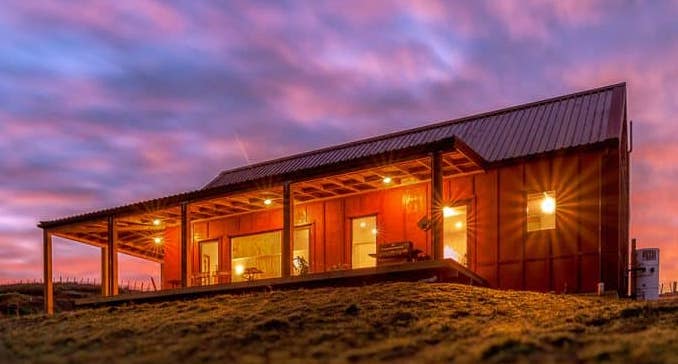 Lower Saddle House is the family home for Auckland architect Joe Lyth, who qualified as a Passive House designer during the planning phase. It's had lots of press. In particular Joe's essay for Architecture Now was widely discussed, because he described how this certified, high-performance build was completed within their $502K budget.
It is true that Lower Saddle House achieved the certification targets—and comfortably at that—in the warmest climate in New Zealand. There is no doubt it would cost more in the South Island. But that build cost is still impressive. (Joe noted in Architecture Now, "While few of [our] savings would be available to other projects, if you add another $100k to account for consultants' fees, additional labour, buying a mid-range kitchen and other costs, our project still sits at around $3500/m2.")
Joe was keen to reduce the amount of embodied carbon (Passive House certified performance took care of slashing operational carbon). Modelling by VIA Architecture showed the whole of life carbon for the house totalled 45 tonnes, well within the Massey/BRANZ detached house carbon budget to stay below the 2°C warming limit (this included the carbon storage in materials). (A typical new home in New Zealand emits five times as much carbon dioxide as we can afford.) 
The home is in Tahekeroa, north-west of Orewa and a 40-minute commute to Joe's office in Takapuna. Getting contractors on site given that relative isolation was a struggle. So faced with concrete's high embodied carbon, a gently sloping site and the cost to get diggers and concrete trucks on site, a suspended floor was an obvious solution. Timber piles are not the norm for New Zealand Passive House buildings, but the choice here proved very satisfactory. A double layer of Terra Lana wool insulation is protected by a wind-washing layer of ProClima Mento 3000, providing an excellent U-value of 0.19. Joe also favoured services running under a floor rather than a slab, for reasons of accessibility and maintenance.
Structural insulated panels were specified. This was the builders' first Passive House, so it was useful that they did have a lot of prior experience in building with SIP. Covid-19 disruptions meant delays in the panels arriving from China and being exposed to weather during transport and storage and Joe's drawn-to-the-millimetre details didn't translate exactly to the materials on site. 
Nevertheless, Joe was impressed by how the SIPs went together ("like constructing Lego") and the speed. Reduced timber content in the walls (therefore higher insulative performance because less thermal bridging) was another benefit. And it removed more trades from the project, with all the associated cost and complexity: no fixing wall board, no gib-stopping. The interior walls are lined with plywood, which has been left exposed throughout the interior, a look and texture Joe appreciates. (DIY finishing of walls and floors is still underway, a cost-saving measure.)
Joe and Sarah have three children under five including a newborn. Lower Saddle House offers them a warm, comfortable, healthy environment during the Auckland region's extended lockdown in late 2021. They've moved from a cramped rented granny flat with mould on the walls, where both older children relied on inhalers to control their asthma. Happily, the medication is no longer needed. And the view from the extensive decks out over the valley at the end of the day is a brilliant antidote to the stresses of remote working during a protracted lockdown.
* Joe provided this summary of costs, noting where and how they saved money, in a recent presentation.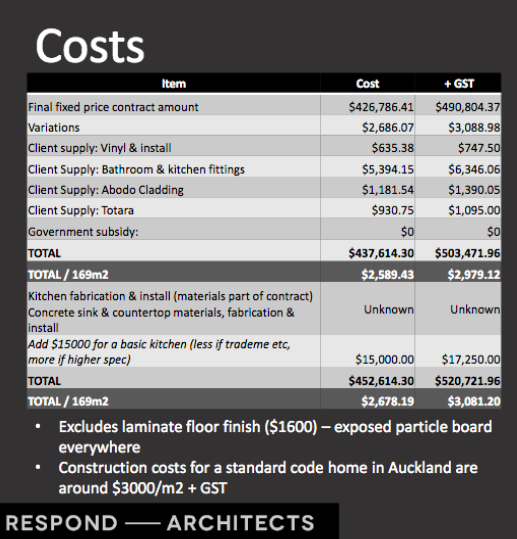 Passive House Metrics
Heating Demand

13.6 kWh/m2/year

Heating Load

10.2 W/m2

Frequency of Overheating

2.0

TFA

123.0 m2

Form Factor

3.2

Air leakage @ 50Pa

0.4 ACH/hour

PER demand

32.7 kWh/m2/year
Construction Details Average Values
U-value External Walls

0.40 W/(m2K)(R2.5)
Combination of 115mm and 165mm SIP panels

U-value Floor

0.19 W/(m2K)(R5.3)
Plywood / 240 joists with Terralana insulation

U-value Roof

0.21 W/(m2K)(R4.8)
215 SIP pane

U-value Glass

0.58 W/(m2K)(R1.7)
Bertrand Alutrend Silverstar 4: 16 4 16 :4 - Chromatech Ultra spacer

U-Windows

1.10 W/(m2K)(R0.9)
Bertrand ALUTREND

Ventilation Efficiency

80.5%
Stiebel Eltron - LWZ 180 (Balance)