Toiora High Street Cohousing
Dunedin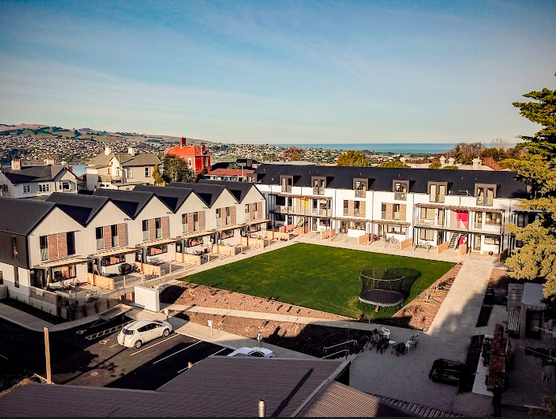 History has been made: the Toiora co-housing project in Dunedin has met all its targets and both buildings have received their Passive House certification. The development is home to 21 units and is both the largest Passive House project in New Zealand to date and the first multi-unit Passive House residential dwelling. 
The success of Toiora is testament to the vision and determination of a group of Dunedites committed to co-housing ideals. They have worked tirelessly since 2014 to bring this vision to fruition.
The apartments are housed in two multi-level buildings, one on High Street and another on Alva Street. The two blocks create a right angle that shelters a large common garden. While the construction is similar, the difference in orientation and form factor means the two buildings have slightly different levels of performance. The Alva Street building is smaller, housing just six apartments and it has a higher form factor of 2.4 (compared to High Street at 1.9). The larger size and form factor of the High Street block saw it more easily achieve the Passive House requirements.
It is more thermally efficient to build multi-unit residences but also cheaper as some walls are shared. There were also cost savings because components—everything from windows to kitchens—were purchased in bulk. The group of owners of individual units were effectively the developers, removing another cost from the project. However, it was an uphill battle to finance, despite each unit having its own freehold title. Lenders were reportedly reluctant to issue mortgages for a co-operatively owned asset. 
Other challenges were impossible to foresee. Tragically, the original Passive House designer died and a colleague had to step in to finish the modelling. Once construction had already begun, a global pandemic—and New Zealand's level four lockdown—happened. Together with an issue caused by soft ground, construction ended up taking two years.
However, the wait seems to have been worth it, judging by reports from Toiora members. Among them is Tim Ross, the lead architect on this project, whose family of six has moved into a three-story unit. It's a welcome change from the old, draughty villa they had called home, especially given Tim's architectural practice Architype has designed scores of Passive House dwellings for clients.
The buildings sit on a fully insulated concrete slab. The thermally isolated concrete piles are a first for a New Zealand Passive House. The walls are constructed from Formance SIP panels.
Multi-occupancy called for new solutions compared to a single-family dwelling when it came to DHW and ventilation. A centralised domestic hot water system was designed for each building. There's a large heat pump plus storage tank and a circulation loop that delivers hot water nearly immediately to the taps in each apartment. 
Fire safety requirements for multi-occupancy dwellings shaped several design decisions: each unit has its own heat recovery ventilation unit and there are fire walls between units that required special detailing to meet Passive House performance levels.
Passive House Metrics
ALVA STREET
Heating Demand

20.9 kWh/m2/year

Heating Load

9.7 W/m2

Frequency of Overheating

1.2%

TFA

626.5 m2

Form Factor 

2.4

Air leakage @ 50Pa

0.5 ACH/hour

PER demand

60 kWh/m2/year
HIGH STREET
Heating Demand

12.3 kWh/m2/year

Heating Load

7.9 W/m2

Frequency of Overheating

0%

TFA

1200.5 m2

Form Factor 

1.9

Air leakage @ 50Pa

0.6 ACH/hour

PER demand

49.8 kWh/m2/year
Construction Details Average Values
ALVA STREET
U-value External Walls 

0.30 W/(m2K)(R3.3)
215mm, 165mm & 115mm Formance SIP wall panels

U-value Floor

0.10 W/(m2K)(R10)
Slab on grade with 360mm Expol EPS insulatio

U-value Roof 

0.17 W/(m2K)(R5.9)
Scissor trusses insulated at the roof line with Knauf Earthwool

U-value Glass

0.53 W/(m2K)(R1.9)
Energate triple glazing

U-Windows

0.92 W/(m2K)(R1.0)
Energate uPVC 834 range

Ventilation Efficiency 

68.9%
Zehnder ComfoAir180
HIGH STREET
U-value External Walls 

0.29 W/(m2K)(R3.4)
215mm, 165mm & 115mm Formance SIP wall panels

U-value Floor

0.14 W/(m2K)(R7.1)
Slab on grade with 360mm Expol EPS insulation

U-value Roof 

0.17 W/(m2K)(R5.9)
Truss & skillion roofs insulated at the roof line with Knauf Earthwool.
165mm Formance SIP roof panels.

U-value Glass

0.53 W/(m2K)(R1.9)
Energate triple glazing

U-Windows

0.96 W/(m2K)(R1.0)
Energate uPVC 834 range

Ventilation Efficiency 

67.6%
Zehnder ComfoAir180