Bader Ventura
Auckland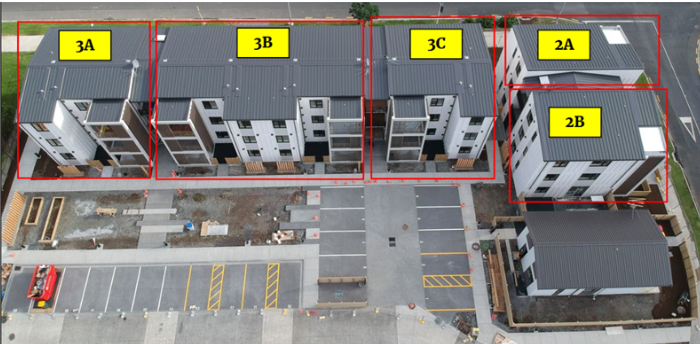 This project is the first government-owned social housing in Australasia to earn Passive House certification. Its success is down to the vision and determination of some key individuals, chief among them the project manager at Kainga Ora and those who supported her bold bid to radically improve the performance of these apartments. 
Bader Ventura is well ahead of Kainga Ora's implementation of MBIE's Building for Climate Change target: these units meet the 2035 targets. It's proved Kainga Ora's capability to provide better quality, healthier accommodation; and their vulnerable tenants now get to live in warm, dry homes that cost a pittance to heat. The process has also familiarised and upskilled consultants and suppliers, which will benefit future Passive House projects of all types.
Certification is all the more remarkable given the timing. Detailed design was well underway when Passive House performance was first considered. The existing design of these 18 apartments was not optimal from a thermal performance point of view. External breezeway staircases split the internal volume into smaller units. Thermal bridging was considerable. The tilt-slab construction initially called for internal insulation which brings risks with moisture if not done properly.
Kainga Ora reached out to Sustainable Engineering for initial advice about the implications of targeting Passive House certification. Undeterred by the frank advice to pick an easier project, energy modelling began and various options were explored in an iterative process. 
In the project's favour, the original design specified better performing windows than the minimums allowed under the Building Code plus better levels of insulation. Larger buildings also have inherent advantages when it comes to thermal performance, especially multi-storey construction.
Resource consent was already granted so there was no going back from a tilt-slab construction. The walls were redesigned so insulation was sandwiched in between two layers of concrete, with fibreglass pins reducing thermal bridging and other thermal bridges revised while meeting the structural requirements.
The builders were largely hired on the basis of their experience with this construction method. This was their first Passive House project—but they brought to it an exceptional, can-do attitude. They were open and curious about new ways of doing things. 
Prefab of course has many benefits, speed to stand-up on site being chief among them. The windows used were locally manufactured from German uPVC profiles and were fitted into the wall panels at the factory. Craning panels into place was very quick. The three-year project opened within a couple of days of the initial delivery date, despite the massive disruption wrought by Covid (watch a time lapse video). This was an exceptional achievement by the build team and suppliers. 
Although the embodied carbon is possibly higher than other structural systems (detailed calculations are underway), this is a highly durable structure that could easily stand for 200 years. Amortising over that timeframe gives another perspective on carbon costs.
Steel beams with thermal breaks solved the problem of continuous concrete at the stairwells. The performance upgrades are largely invisible in the finished building, which looks the same as the original design from street level.
The Auckland climate of course makes it easier to hit Passive House targets. High performance double-glazing was sufficient and the development easily met heating demand upper limits, although there was considerable variation between blocks. Blocks 2A and 2B needed some additional insulation of hot water supplies in order to meet the primary energy renewable (PER) target. Hot water is supplied by standard electric resistance hot water tanks.
Excellent airtightness results were achieved. The stairwells meant the project needed to be treated as five different buildings. Each apartment was blower-door tested and the result for each block is the average of all its apartments.
Passive House Metrics
Heating Demand

9.5 - 12.7kWh/m2/year

Heating Load

7.7 - 10.6W/m2 

Frequency of Overheating

2 - 3%

TFA total

1634m2

Form Factor

2.0 - 2.9

WindowArea

373m2 total

Air leakage @ 50Pa

0.35 - 0.41ACH/hour

PER demand

51 - 60kWh/m2/year
Passive House Database - 6665

Construction Details Typical Values
U-value External Walls

0.22 - 0.30W/(m2K)(R4.5 - 3.3)
Concrete tilt-slab Thermomass panel 60mm Phenolic or XPS core with 50mm Kootherm K10 board (40mm Phenolic)

U-value Floor

0.24W/(m2K)(R4.21)
Concrete slab on 275mm EPS thermally bridged

U-value Roof 

0.20W/(m2K)(R4.95)
Kingspan roof metal skins both sides with 100mm Phenolic insulation fasteners impact included

U-value Glass

1.19W/(m2K)(R0.84)
Viridian LightBridge (ACG Planibel Clearlite) (4/16/:4 90% Ar)

U-Windows

1.5 W/(m2K)(R0.7)
Warm Windows Aluplast IDEAL 4000 and 2000 series

Ventilation Efficiency

77-80%
Zehnder ComfoAir200 plus direct extract in kitchens.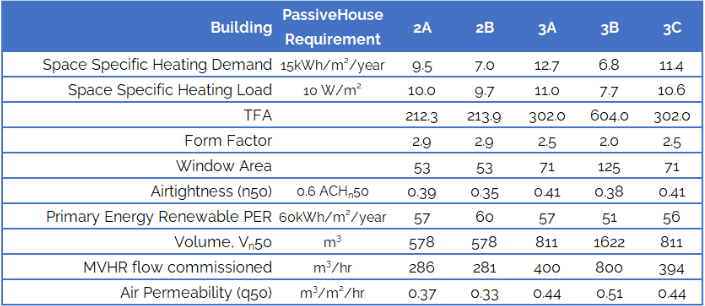 "For Kāinga Ora customers, it will mean a reduction of around 85 per cent in heating costs and a year-round healthy home … we expect the average annual heating energy bill in these homes to be around $360, or $1 a day, compared with about $2000 for a standard Kāinga Ora home built to 6 Homestar standard, and even more for an older home," according to a
Kāinga Ora spokesman quoted in Colleen Hawkes' article on Stuff
.
Related Links
Case Study: Kāinga Ora Passive House standard by  Construction Sector Accord
How-To Guide: Kāinga Ora Case Study by Construction Sector Accord