Coatesville eHaus
Auckland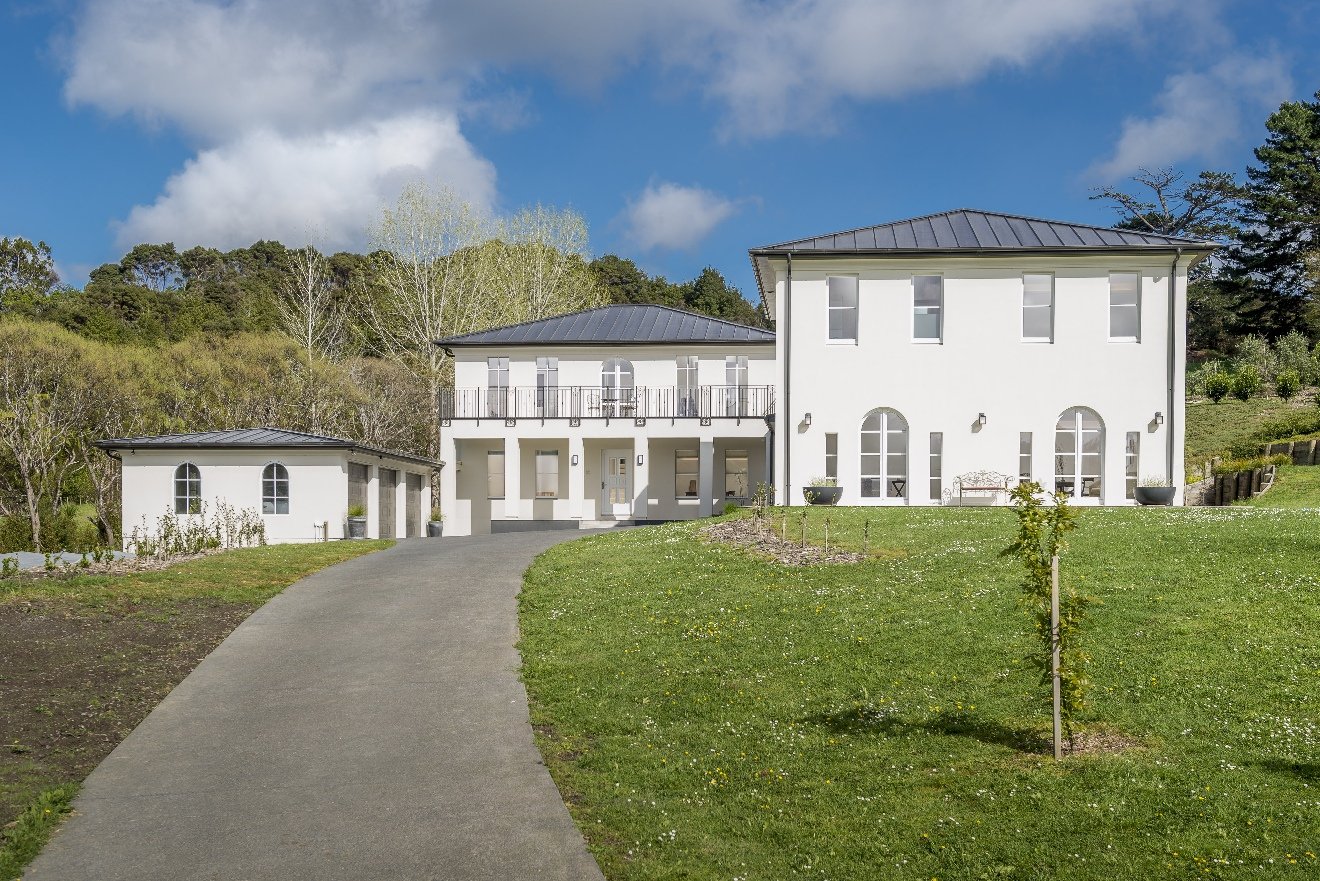 Project Team
Architecture & Passive House Design CADVIZ –  cadviz.co.nz eHaus –  eHaus.co.nz
Construction eHaus Auckland Rodney – Terry Bryers
Certifier BRE UK – www.breuk.com
Passive House Metrics
Heating Demand

7 kWh/m2/year

Heating Load

9 W/m2

Frequency of Overheating

3.1%

TFA

370.3 m2

Form Factor

-

Air leakage @ 50Pa

0.3 ACH

PE demand

100 kWh/m2/year
This imposing residence in a French style was built for three generations, with two homes connected by a very large kitchen and pantry. It also includes office space for the young couple who work from home. It is testament to the flexibility of the Passive House standard, which can accommodate different aesthetics.
This is a very high quality build that performs as well as it looks. ICF construction was used for walls, which were finished with plaster inside and out. It sits on a concrete slab with a generous 200 mm of insulation, carefully integrated so that it is continuous at the wall/floor junction.
Glazing has been strategically placed; it only makes up 18 % of the wall area, but is used where it counts. Glazing has been minimised on the west wall; along with external shading, this helps prevent overheating in summer. Double-glazing is sufficient in this northern climate and the frames are uPVC.
Solar thermal hot water and a 6.75 kW solar photovoltaic array produce 75 % of the home's energy needs. There's provision for more than 112,000 litres of potable water storage.
The home's performance is exceptional, with heating demand and air leakage both being half that allowed by the Passive House standard.
---
Double glazed uPVC frames with external electrically operated external shading. Rolatherm integrated blind system was installed, predominately on the west windows. The window and glazed door area is only 18% of the wall area, and there are few windows to the west, which helps with maintaining a cool internal temperature in the summer.
Owners quote provided by eHaus "Its great, its extremely comfortable and a very elegant form of living. You don't notice temperature differences..… its an incredible way to live. Everyone that visits the house including builders have noticed it as well. It is many many times better than anything they have experienced before. The entire bill in at the peak of winter for each house is less than $100"
Construction Details Average Values
U-value External Walls

0.26 W/(m2K)(R3.8)
EcoBlock ICF

U-value Floor

0.18 W/(m2K)(R5.6)
200mm EPS below concrete slab

U-value Roof

0.15 W/(m2K)(R6.7)
260mm fiberglass insul. over Intello

U-value Glass

1.10 W/(m2K)(R0.9)
Isolar Neutralux Advance (4:/16/4 90%Ar)

U-Windows

1.47 W/(m2K)(R0.7)
EcoWindows Prestige uPVC MATURA76

Air Control Layer

Ecoblock ICF, Concrete Slab, Intello

Ventilation Efficiency

78%
Two of Zehnder ComfoAir350