Hiberna Strawbale House
Wanaka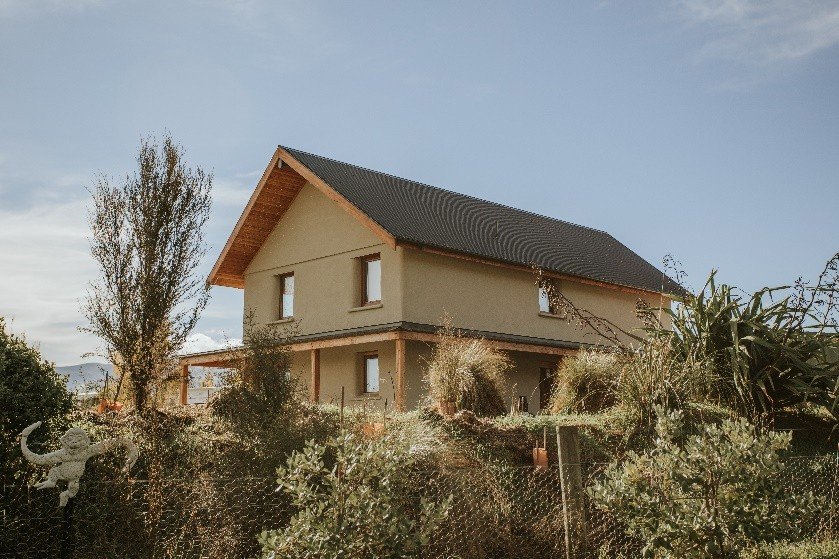 New Zealand's latest Certified Passive House is a house notable for its environmental credentials as well as its sensory appeal. Wanaka architectural designer Jessica Eyers of Hiberna designed this three-bedroom straw bale house and her husband Ben Eyers built it.
Hiberna's ethos is all about combining natural, low-tech, local materials with high-tech scientific design and construction principles. They favour materials that are non-toxic, have low embodied energy—and which also provide for dry, warm, healthy buildings.
If straw-bale constructions make you think of quirky owner-built houses that look like hobbit holes, get ready to abandon your pre-conceptions. This is a two-storey build with a simple, elegant form that flawlessly fits in among its expensive neighbours in this new development at Luggate, 15 km from Wanaka. The couple's vision was for an enduring, simple building with beauty in the details; they have achieved all that, and Passive House certification. It also appears to be the world's first certified straw bale Passive House that uses plaster as the airtightness layer, a remarkable achievement that highlights Ben's experience and long-standing research into natural plastering.
Smart choices
This build uses a post and box beam wall structure with straw as in-fill (although in this hybrid system conceived by Ben and their engineer, the straw bales also load bear). It requires providing Alternative Solutions but the Hiberna team has designed and/or built a number of straw bale structures and Jessica is meticulous about providing comprehensive documentation in her building consent applications. Her local council were very good to work with and she also praises their engineer, Paula Hugens of eZED, who is experienced with straw bale construction.
Some interesting new learnings emerged during this project, as Jessica explains. "During our research into the lambda value [heat conductivity] of straw bale we discovered that the orientation of the bale has a much larger impact on the thermal properties than we thought: 0.073 λ for bales laid flat and 0.047 λ for bales on their edge. Bales on edge make for a slimmer wall but overall the U-value is greater. We always build with bales on edge now."
Ben says he is most proud of how smoothly the structure went together. They built the first floor walls on the ground and craned the whole thing into place[1], saving on scaffolding and reducing time working at height. (Worksafe subsequently turned up to investigate how a two-storey home had been built without scaffolding.)
There are few two-storey straw bale buildings of any kind in New Zealand but the second floor offered the best views and the resulting perimeter to volume ratio reduced the insulation requirements.
Natural plasters
Ben is one of New Zealand's foremost experts in natural plasters and is particularly experienced in applying plasters to straw. Here he applied a plaster consisting of local clay and lime in several layers to the exterior walls, finishing with a breathable silicate paint that provided the low-reflectance surface required for houses in this development.
The internal plastering is deliberately neutral so as not to compete for attention with the timbers that have been extensively featured: macrocarpa exposed beams, rimu staircase, kahitakea and Douglas fir ceilings, eucalyptus panelling and red beech window sills and upstairs flooring.
Components
The north-facing house sits on a concrete insulated slab, over which a thin earth coating has been applied to create a softer feel underfoot. The roof is constructed from 240 mm rafters with a 90 mm services cavity and supports a 3kW PV grid-tied array. This will meet household electricity needs and power the family's electric car.
The climate here is far colder than most of New Zealand, with winter lows of -5 degrees (it's also drier, with only 400mm of rain annually). Hot water is supplied from a heat pump, while the house is heated by two 1kW radiators fed via a scavenging coil in the hot water cylinder.
The climate also dictates triple-glazing and initially Ben ambitiously planned to make the windows himself. Discussions with an old friend in Germany, who has built and installed high-performance timber windows, led to a decision to buy factory-made windows and doors. Ben has now set up a side business with his German friend, importing these timber-framed, Passive House standard units.
A lot of polystyrene was used at the window jambs to mitigate thermal bridging. Typically a straw bale house would use packed straw to create a curved reveal but thermal modelling indicated this would not meet Passive House standards. Polystyrene isn't a good fit with Hiberna's ethos and in future Jessica will specify wood fibre board, which has the same insulative properties.
Challenges and learnings
This project sailed in below the upper limits for heating demand. Air-tightness was the challenge, as the couple knew from the outset. Jessica's research revealed a few other certified Passive Houses made from straw bales around the world but these used a membrane to create the building envelope. Other projects she's aware of tried to use the plaster but narrowly missed the target (a maximum 0.6 air changes per hour (ACHn50[2]).
Plaster is on the one hand, pleasingly simple. "It gives you the opportunity to have a second crack; if you find a spot that is a bit thin, you can apply more plaster," says Jessica. Their first blower door test was conducted once the base layer of plaster was applied. "We aimed to get below 0.6 with only the base coat, on the basis that further coats of plaster would improve the result." Only, it didn't. The first blower door test returned a result of 0.55 ACH and that rose to 0.59 on the final test; the house just squeaked in.
Jessica has been thorough in her post-construction analysis and says they will approach the next straw-and-plaster build a little differently. "It's the junctions that were the issue. Keep in mind this was a two-storey house and the mid-floor junction was particularly complex. The next build will be better."
Jessica wouldn't specify the same mid-floor structure again either. The posistruts were costly and the benefit of running services through them was compromised by the need for additional structure. Further, the plumbing waste pipes wouldn't fit through them.
Straw's many benefits
At time of writing, the Eyers are only a month away from moving into the house that has been five years in realising. Ben is currently busy applying a bright turquoise tadelakt plaster in the bathroom, a traditional waterproof Moroccan plastering method in which he specialises. "It's exciting. Straw is one of the best ways of achieving Passive House in a really simple way. A straw bale wall is basically a Passive House wall on its own, providing insulation, the plaster substrate and load-bearing to some extent," says Jessica.
"It doesn't add any cost—it could even be cheaper [compared to conventional materials]—and it has other advantages. Straw is non-processed, and we sourced ours locally. The bit of lime in the plaster has the highest embodied energy of any of the materials used for walls.
"We also like that it's hand-crafted by the builder on-site and we love the aesthetics. [The straw and plaster combination] has a character that stands up on its own, rather than relying on clever architectural tricks."
This procedure was captured on video available on YouTube
For an explanation and definition, see page 21 of Passive House for New Zealand
Passive House Metrics
Heating Demand

10.5 kWh/m2/year

Heating Load

12.3 W/m2

Frequency of Overheating

0.0% year over 25°C

TFA

118.4 m2

Form Factor

3.4

Air leakage @ 50Pa

0.6 ACH/hour

PER demand

34 kWh/m2/year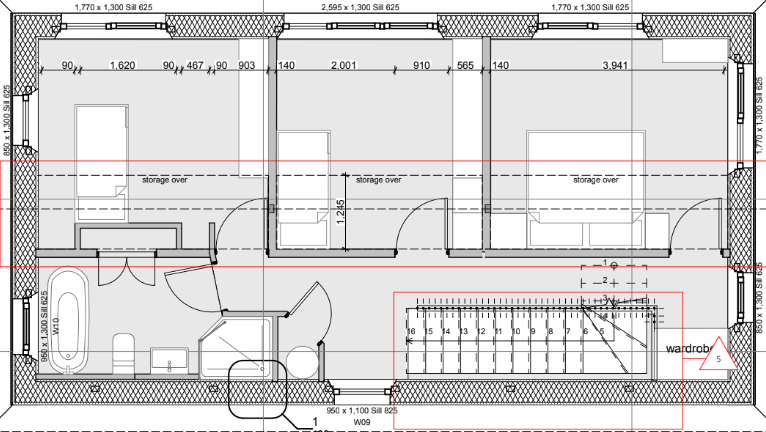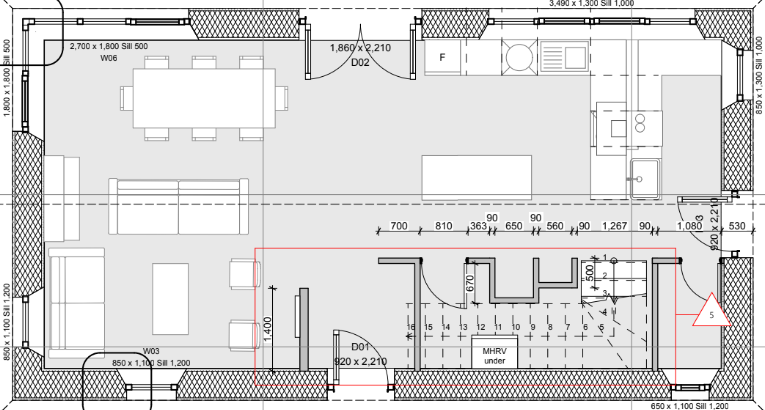 Construction Details Average Values
U-value External Walls

0.14 W/(m2K)(R7.1)
40mm of Clay plaster, 450mm of Strawale, 60mm of clay plaster

U-value Floor

0.17 W/(m2K)(R5.9)
25mm Earth flooring, 100mm Concrete, 200mm of EPS

U-value Roof

0.13 W/(m2K)(R7.7)
20mm timber, 90mm service cavity with TerraLana insulation, 240mm Rafters with Terra Lana insulation

U-value Glass

0.53 W/(m2K)(R1.9)
Bayerwald Triple glazing

U-Windows

0.90 W/(m2K)(R1.1)
Bayerwald

Ventilation Efficiency

86.1%
Zehnder Q350
Awesome time lapse video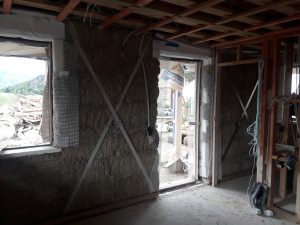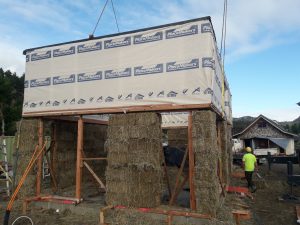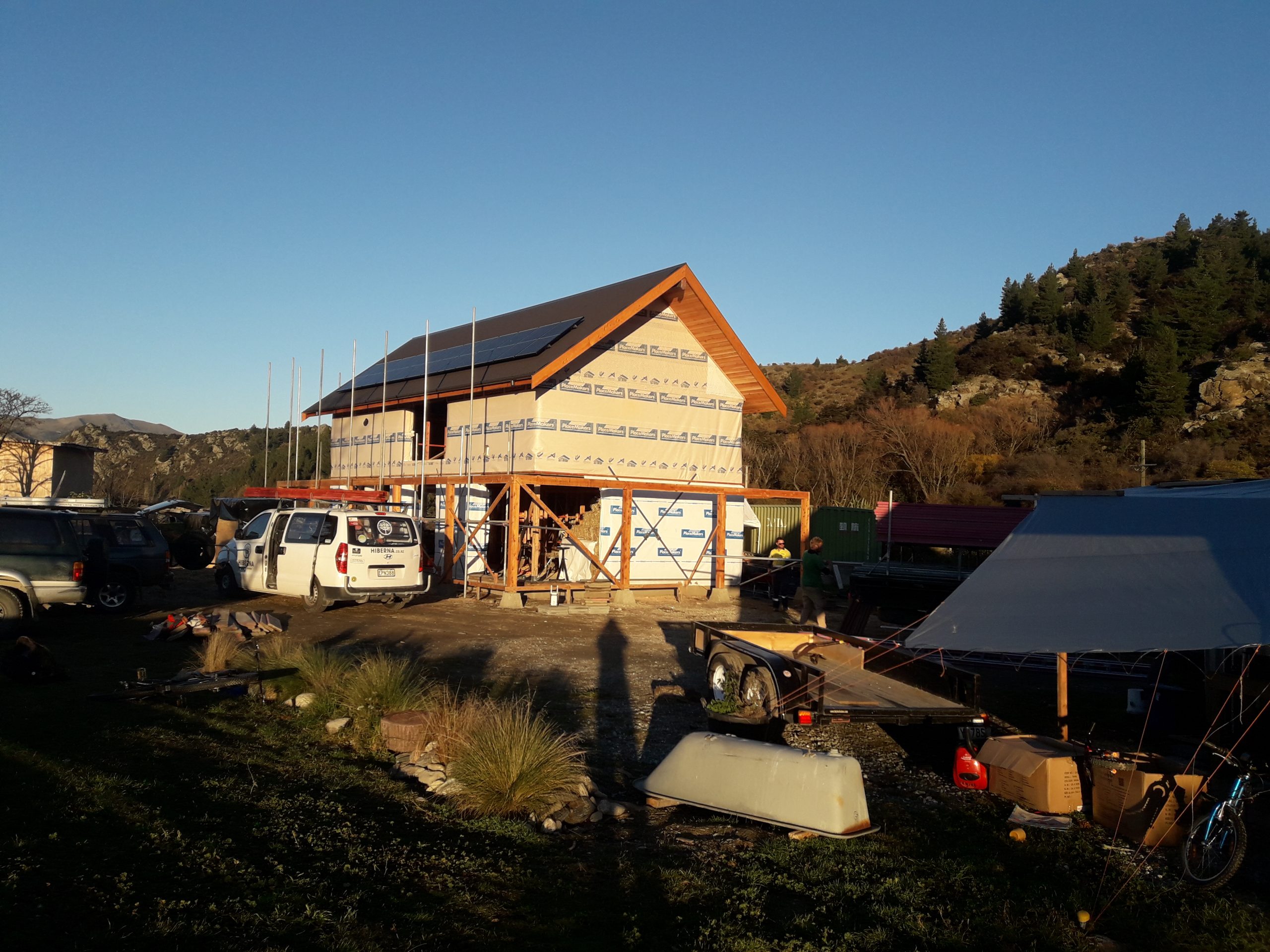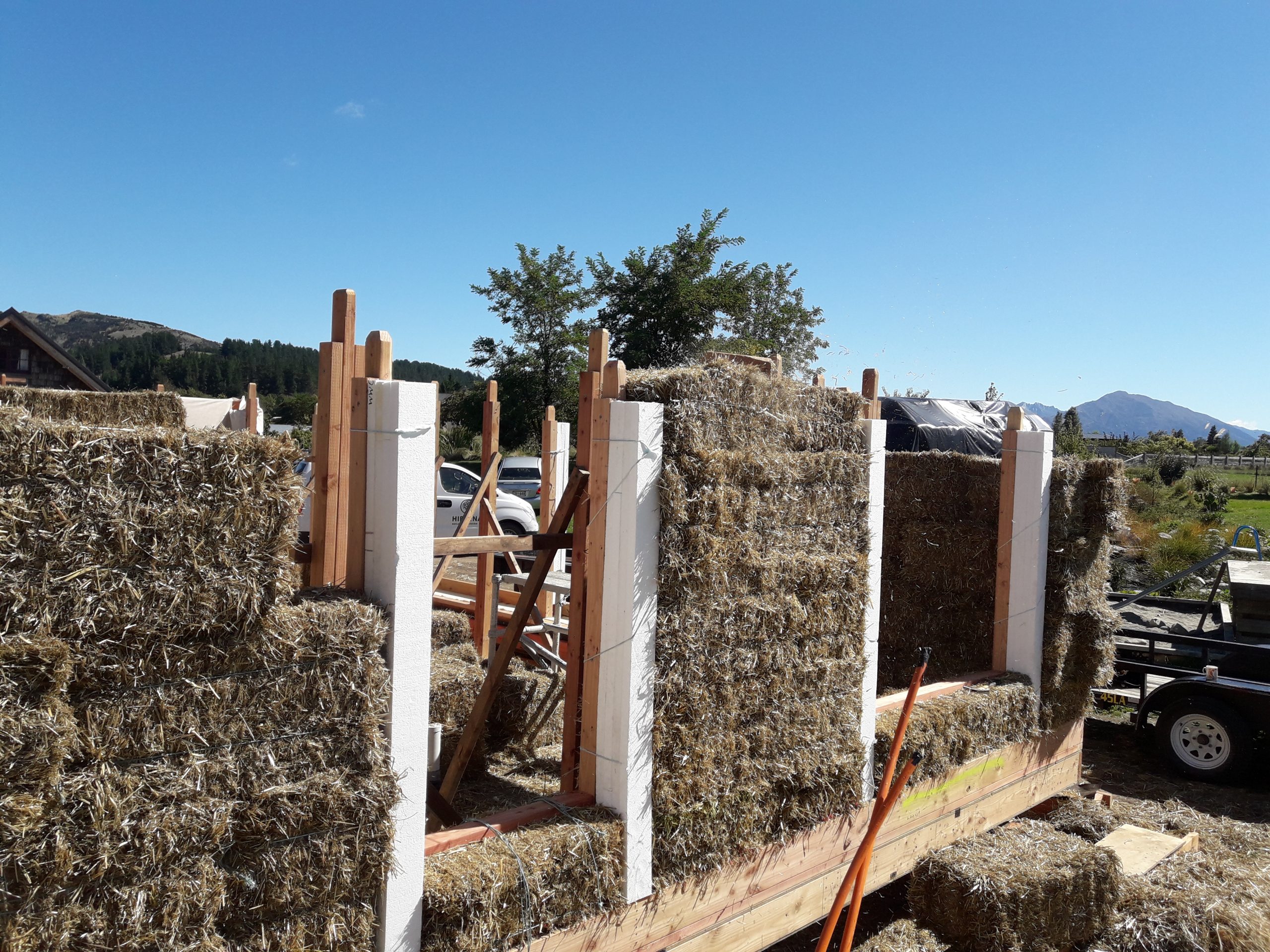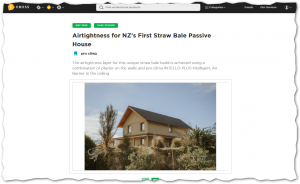 Airtightness for NZ's First Straw Bale Passive House