Leith Street Apartments
Dunedin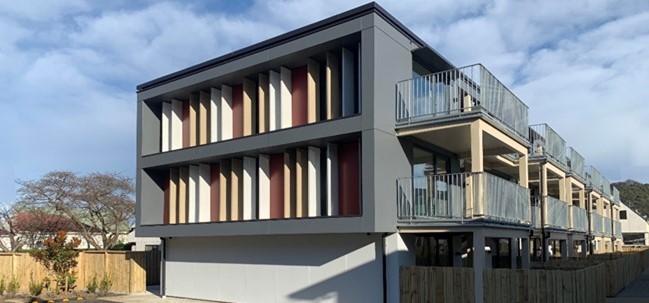 Dunedin's student housing is notoriously bad, even worse than its winters. However, a new Passive House certified apartment block smack in the middle of the student housing precinct is a stark contrast. This project was built by a private developer who was persuaded to build to a higher standard by a compelling business case.
The developer has built other student housing, some of which suffered very badly from condensation and damp despite complying with the Building Code. This prompted research into mechanical ventilation with heat recovery (MVHR), which led him to Architype, a local firm with experience in multi-unit Passive House design.
Given the size and form of this three-story building and a commitment to installing MVHR, it wasn't a big jump to Passive House performance: a case of doing the windows right and designing some better air tightness details, says the architect.
The building houses 19 apartments, most of them 45m2 one bedroom apartments. The architects used what they'd learned from the Toiora co-housing development and approached project design like solving a Rubik's cube. Cost, fire-proofing, acoustics, ventilation and aesthetics; all of these aspects of the design needed to work together.
In particular, ventilation was considered in detail very early on and its layout had a strong influence on the concept design. So many apartments within a single thermal envelope create a "ridiculously large number" of air intakes and exhausts with few options for locating them. Fire regulations prevent penetrations through the building envelope being put next to each other. Further, long runs of pipes are undesirable; MVHR units are best located as close as possible to the thermal envelope. The design team established key criteria then found the best layout to meet all the requirements. Air intakes and exhausts are stacked behind each of the stairwells and rise up and out through ventilation cowls on the roof. 
One suitably-sized heat pump water heater supplies hot water to all apartments, so plumbing also needed careful consideration. The team wanted the shortest runs of pipe possible and the least number of dead legs in order to reduce waste and minimise wait times for hot water. Switching out concrete (the client's preferred material) for CLT really helped here, as pipework could run through the mid-floors. 
The apartments are heated by simple wall-mounted panel heaters. They are all that are needed—indeed, those living in middle apartments will likely never turn them on. Certified Passive House buildings are not subject to the same Healthy Homes Standards, in recognition of their superior thermal performance. This saved the developer the expense of installing and maintaining 19 heat pumps.
The additional costs associated with higher thermal performance and airtightness will also be offset by operational energy savings that flow directly back to the developer as electricity use is included in the rent. The payback period has been calculated and is encouragingly brief. The developer is also happy with the value of his latest asset—the building valuation compared to its returns is very good. It's a vivid example to other private developers and will surely be remembered as a significant milestone in New Zealand's shift to better quality housing.
Passive House Metrics
Heating Demand

13.6 kWh/m2/year

Heating Load

7.4 W/m2 

TFA

807.2m2

Form Factor

1.9

Air leakage @ 50Pa

0.6 ACH/hour

PER demand

81.4kWh/m2/year
Passive House Database - TBA
Construction Details Average Values
U-value External Walls 

0.25 W/(m2K)(R4.0)
140mm Insulated Timber Wall with 45mm Service cavity

U-value Floor

0.32W/(m2K)(R3.1)
Concrete slab with 60mm internal XPS insulation

U-value Roof 

0.20W/(m2K)(R5.0)
Truss roof with 210mm insulation

U-value Glass

0.55 W/(m2K)(R1.8)
EcoWindows - PlaniTherm XN (6.38:/18/4/18/:6.38 90% Ar)

U-Windows

0.92 W/(m2K)(R1.1)
Gealan S9000

Ventilation Efficiency

78%
Zehnder  - ComfoAir180