Martin Residence
Christchurch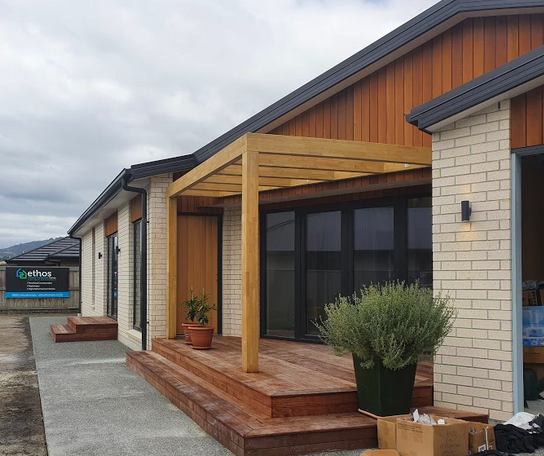 Sometimes serendipity produces the sweetest results. Brett Martin and Weihong Wang were in the early stages of designing a new energy efficient house when Brett happened to hear an interview on Radio NZ featuring Jason Quinn. Sustainable Engineering's director was talking about the book he had just published, Passive House for New Zealand: The warm healthy homes we need. Passive House was new to Brett but he liked what he heard and he picked up the phone to talk to Jason. 
It's been a journey he says, to get to the certified Passive House they now enjoy living in. It's clear Brett's been an engaged client, who has done a lot of research and considered a range of options. The more Brett and Weihong learned, the further they committed to the Passive House methodology. 
Brett's initial reaction to Passive House certified windows was that it was overkill. But as they researched alternatives and actually saw different units in built homes, they realised just how important it is to get the windows right. "We didn't really want to spend as much on windows as they ended up costing, yet all the other options weren't nearly as appealing," he says. They're delighted with their windows, which are Thermadura triple-glazed units with aluminum exterior and timber interior. "Aesthetically they are very pleasing, and the performance is amazing", says Brett.
Being in Christchurch had its benefits. Brett and Weihong were able to visit completed and in-progress homes built by the Ethos Homes team. Director Peter Bielski is a certified Passive House tradesperson and his company has built a number of Passive House and high-performance homes. It underscores how valuable it is to actually experience a Passive House home for oneself: no matter how well-worded the description of their benefits, there's no substitute for feeling it.
Although timber-framed, as is increasingly common with New Zealand Passive House builds, this house has brick cladding. Detailing the junction between the cladding and the slab was carefully considered. If the insulation sat underneath the slab, as is usual, the warmth in the slab would transfer into the brick and heat would be lost. This was prevented by insulating above the slab, with the bricks resting directly on the uninsulated edge of the slab. An early Passive House in Taupo used this same approach.
Toby Brooke from Sustainable Engineering took care of the Passive House design on this project. Because certification is necessarily an independent review, the project was signed off by an Australian Passive House certifier. It was a smooth process; as New Zealand's only active Passive House certifiers, the Sustainable Engineering team knew exactly what the certifier needed.
Passive House Metrics
Heating Demand

15.8 kWh/m2/year

Heating Load

9.8 W/m2

Frequency of Overheating

5.0%

TFA

121.8 m2

Form Factor 

3.8

Air leakage @ 50Pa

0.4 ACH/hour

PER demand

46.0 kWh/m2/year
Passive House Database - TBD
Construction Details Average Values
U-value External Walls 

0.22 W/(m2K)(R4.5)
Ecoply / 140mm Wall with R3.6 Batts / Intello / 45mm Cavity wtih R1.2 batts / GIB

U-value Floor

0.21 W/(m2K)(R4.8)
Concrete Rib Slab with EPS pods and 100mm XPS insulation above the slab

U-value Roof 

0.10 W/(m2K)(R10)
Truss roof with 2 layers of 180mm R4 batts and 1 layer of 145mm R2.6 batts

U-value Glass

0.52 W/(m2K)(R1.9)
Silverstar EN2plus (4:/20/4/20/:4 90% Ar)

U-Windows

0.94 W/(m2K)(R1.1)
Thermadura Designline 90 Larch

Ventilation Efficiency 

88%
Zehnder ComfoAir Q350