Te Miro eHaus
Waikato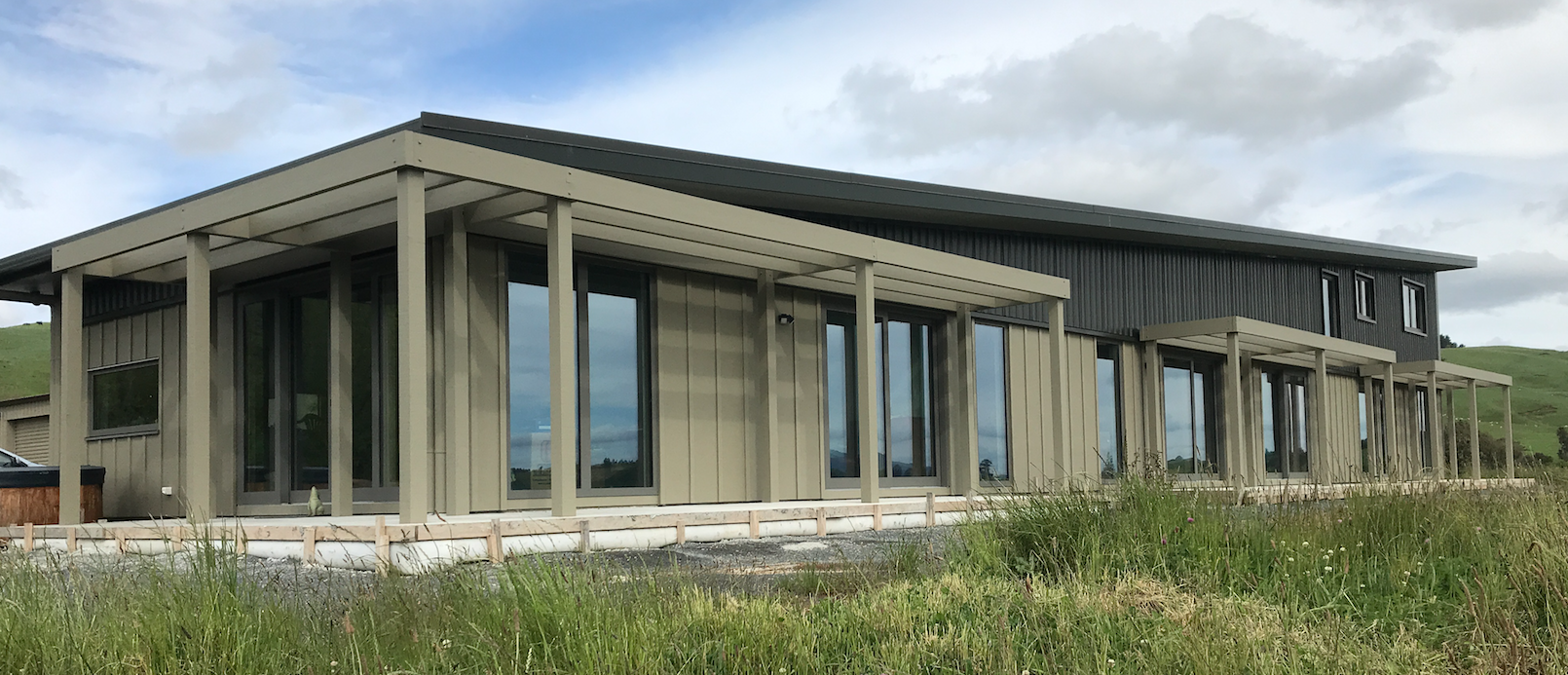 This story starts with an Auckland family who fell in love with a piece of land in Te Miro, in the Hamilton hinterland. They wanted a warm and comfortable house that would shelter not just their growing family but a third generation too.
This 322 m2 building is actually two homes under a single roof. The wife's father has a two-bedroom apartment. It includes a large library lined with his thousands of books and a study.
Another entrance leads to the second home. Downstairs are three bedrooms and open plan living spaces with a double-height void. The arresting sloping roofline breaks up the simple rectangular form of the building and provides for a main bedroom with ensuite upstairs, along with a craft space and lounge.
The owners approached eHaus Waikato because they realised an ordinary house wasn't a good option for this exposed site. The collaboration between the owners and design team produced a highly efficient home certified to the Passive House standard. The house is a timber frame on a concrete slab—a very familiar construction method in New Zealand—but upgraded to meet Passive House requirements with regard to insulation, thermal bridging and airtightness.
The heating load and overheating frequency statistics are impressively low; even more so is the blower door test result of just 0.2 ACHn50. That is a measure of the degree of airtightness and testament to the quality of the work by Brown Construction, the eHaus Waikato builder.
There is said to be a friendly rivalry between the eHaus teams around the country over their blower door test scores. Being able to measure air changes per hour (ACH) is a reliable proxy for build quality, although it's main purpose is to test for leakage in the air tightness layer. To be certified as a Passive House, it must be less than 0.6 air changes per hour.
The airtight layer that cocoons a Passive House building works with the additional insulation to create a very stable internal environment. Typically a Passive House requires 90 % less energy to heat or cool and the indoor temperature fluctuates very little.
Fresh, filtered air is delivered around the clock by mechanical ventilation with heat recovery (so incoming air is pre-warmed by the stale air that is being extracted).
Passive House Metrics
Heating Demand

15.0 kWh/m2/year

Heating Load

11.7 W/m2

Frequency of Overheating

1.4% year over 25°C

TFA

322.2 m2

Form Factor

3.0

Air leakage @ 50Pa

0.2 ACH/hour

PER demand

45.3 kWh/m2/year
Construction Details Average Values
U-value External Walls

0.24 W/(m2K)(R4.2)
140mm Timber framed wall with Pink Batts and 40mm insulated cavity

U-value Floor

0.18 W/(m2K)(R5.6)
100mm Concrete Slab with 200mm EPS Polyfoam

U-value Roof

0.14 W/(m2K)(R7.1)
Cathedral Ceiling with 220mm +115mm of timber and Pink Batts

U-value Glass

0.57 & 0.65 W/(m2K)(R1.9)
Planitherm XN and Cool-Lite SKN 165

U-Windows

1.10 W/(m2K)(R1.1)
Dopfner Premium IV78

Ventilation Efficiency

65% & 85%
Zehnder ComfoAir180 HRV and ComfoAir Q600 HRV