Waikanae Passive House
Waikanae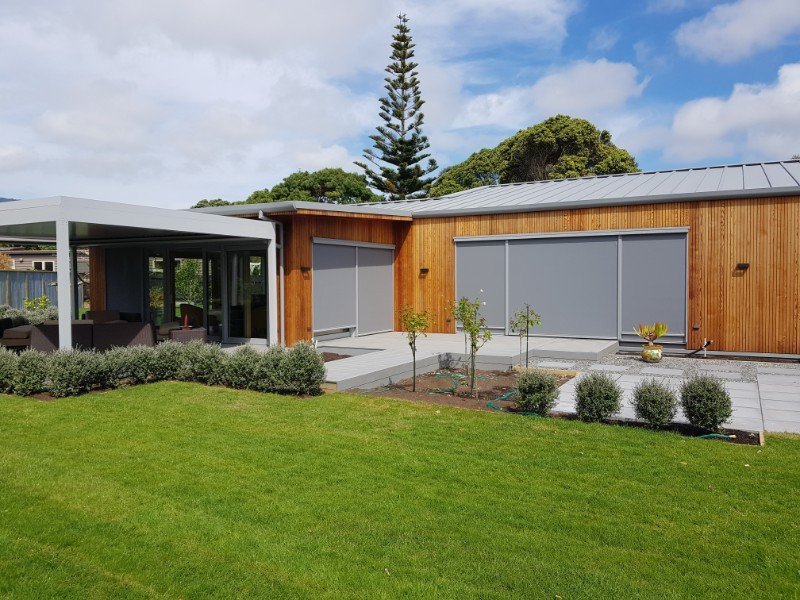 This project was a melding of like minds. The clients told their architectural designer that they wanted a Passive House. They had already chosen their builder, who had experience in building to the Passive House standard.
This beautiful house stunningly illustrates how Passive House standards can be met without constraining architectural creativity. It features curved ply ceilings and a subtle yet impressive internal plastered feature wall. The garage is clad in handcrafted 2 mm printed aluminium panels, a colour reminiscent of weathered green copper. This contrasts with the vertical cedar cladding on the house exterior.
SIPs were chosen for the wall and roof for their multiple benefits: speed of construction, reduced thermal bridging and ease of air sealing. Insulation was laid on top of the concrete slab (underneath the floating floor) because of the challenging geo-technical conditions. The poor soil would have potentially compromised efforts to insulate under the concrete slab.
Timber framed triple-glazed windows were imported from Germany. The solar orientation and lack of eaves bring with it a risk of overheating but this is managed by the use of external blinds.
The principle challenge lay in achieving the required thermal performance given the expansive floor plan and the resulting higher form factor.
Construction went smoothly, thanks to the contractor's experience. The only hitch was floor insulation. The insulation originally specified wasn't available in New Zealand and a lower-performing, locally sourced product needed to be substituted. Happily, there was sufficient performance margin in the design to absorb this change.
Blower door testing produced an outstanding airtightness result of 0.27 ACH, the best result in New Zealand at the time of build.
Passive House Metrics
Heating Demand

14.9 kWh/m2/year

Heating Load

11 W/m2

Frequency of Overheating

0%

TFA

254.5 m2

Form Factor

3.57

Air leakage @ 50Pa

0.3 ACH/hour

PER demand

48 kWh/m2/year
Passive House Database -None-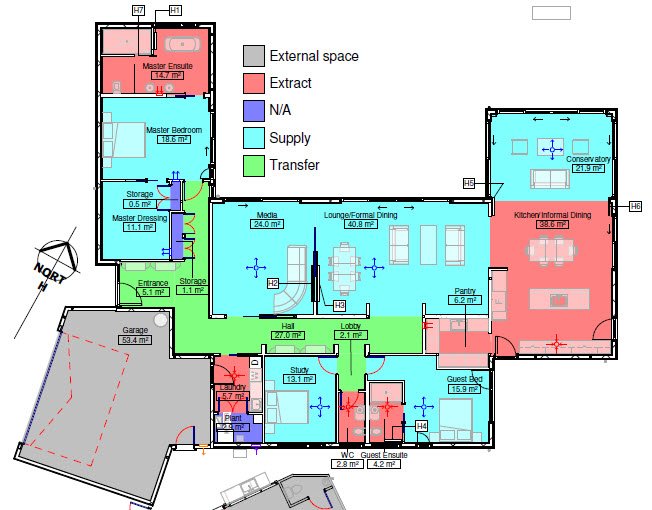 Construction Details Average Values
U-value External Walls

0.21 W/(m2K)(R4.8)
165mm EPS core structural insulated panels with insulated service cavity

U-value Floor

0.28 W/(m2K)(R3.6)
Concrete slab on piles with 90mm XPS floating overlay floor

U-value Roof

0.15 W/(m2K)(R6.7)
215mm EPS core structural insulated panels with insulated service cavity

U-value Glass

0.58 W/(m2K)(R1.7)
PlaniTherm XN (4:/16/4/16/:5lam 90% Ar)

U-Windows

0.9 W/(m2K)(R1.1)
Döpfner Timber-Aluminium IV78

Air Control Layer

SIP, Concrete Slab

Ventilation Efficiency

84.31%
Zehnder - ComfoAir 550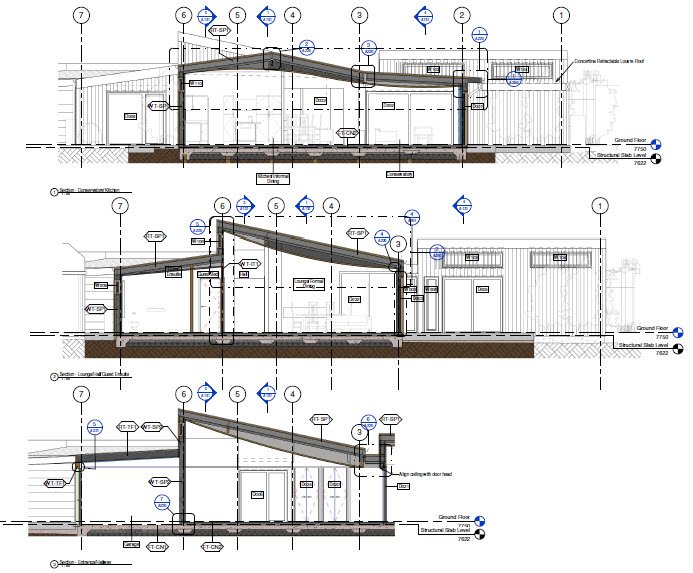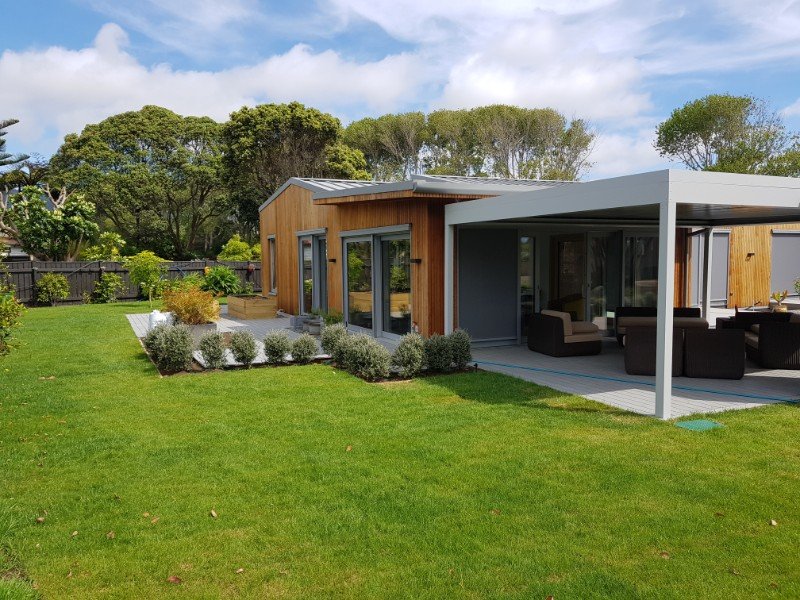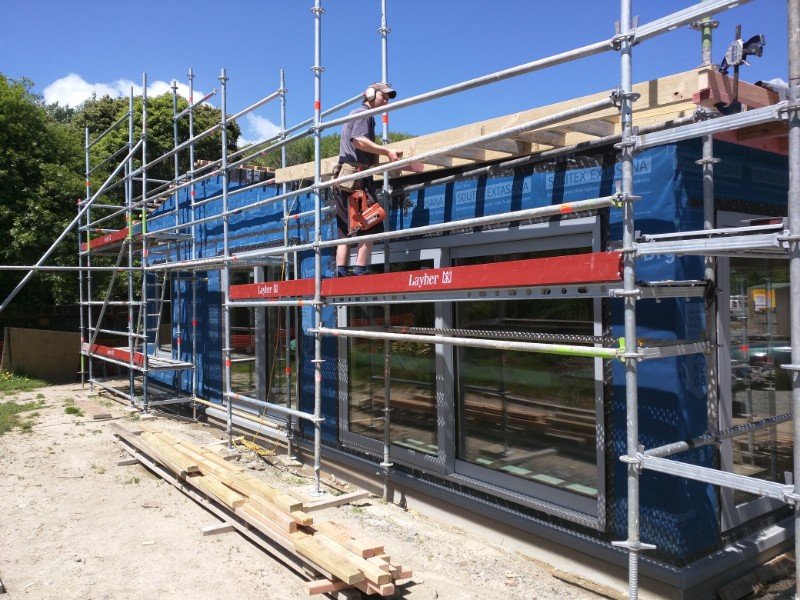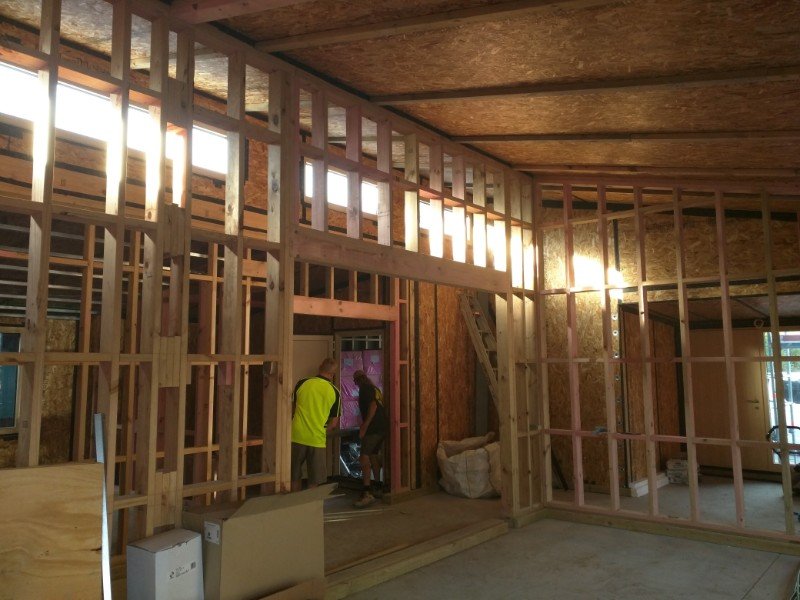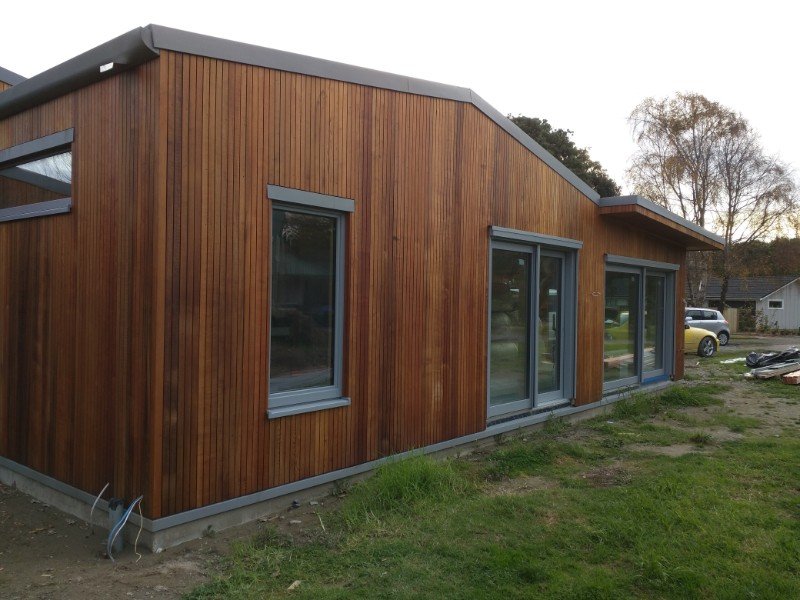 Images courtesy of Energy Architecture NZ Ltd and Mike Craig Builders.