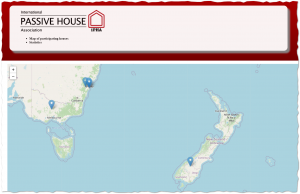 And this year it is virtual. OK, it's not the same as getting our grubby fingers on everything but there are significant benefits to seeing inside Passive Houses around the world from the comfort of our living room.
Good work on getting a range of videos shot in time; the quality (particularly sound) varies but all of them provide insights, not least into the diversity of people who are backing the Passive House standard. There is a lot to be learned by hearing a designer or owner talk about how they solved their issues and what mattered to them in designing and building their certified Passive House.
Noonamena: single family home in Bendigo Australia. Unmissable: the automatic, air-tight dog door.
The Fern: Meticulously planned luxury six-storey apartment building in Redfern, Sydney. Lots of technical detail offered about thermal bridging, plus views of ducting before walls are lined. Bonus: great graphics explaining Passive House basics on its website, plus more videos.
Thornleigh: The house built around a tallowwood tree; gorgeous rooflines and an innovative use of water tanks as an aesthetic feature.
Blue Eco Homes is also built to withstand fire, a wise move in the NSW Blue Mountains. Home video makes for giddy viewing.
Plus, New Zealand is represented! Hawea Flat, NZ's first PH Premium shows photos and videos of construction of this singular oak-framed bespoke house. Check out the size of the crane standing up the frames.
—30 June 2020