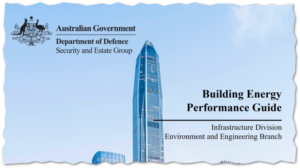 Tip of the hat to Sean Maxwell for his LinkedIn post alerting me to some welcome developments in Australia. The Australian Department of Defence has revised its Building Energy Performance Guide to include enforceable air tightness testing requirements for all its new buildings. Permeability targets are defined in the guide. All buildings must be tested for airtightness according to ISO 9972 Method 1. That will rule out any funny business such as frantic pre-test taping to increase the chances of a pass, says Sean..
The targets are pretty easy but taking this first step and requiring all buildings to be tested will ensure that at least all the big holes in the building thermal envelope are sealed up.
The full guide is available here; the details are in Section 3.6.1 Building sealing. Sean's post goes into some detail and his comments are worth reading in full.
Sean is the manager for the Air Tightness Testing & Measurement Association Scheme (Australia & New Zealand), ATTMA.