The first cohort of students in the Practical Passive House design process course are more than halfway through. Everyone in the group of 16 recently completed their first big assignment, a DesignPH model. About a third are using the course to help them develop a client's design, while others are working through personal projects. 
Feedback from students has been very positive. Course materials include multiple checklists and students have commented on the value of having a structured process to work through, rather than having to navigate through a complex new task by themselves.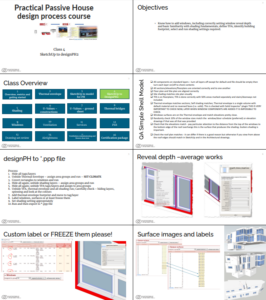 There's a lot of diversity, with architects ranging in seniority from just graduated to retired. There are academics and people from other parts of the industry who bring different perspectives and specialist skills, such as a builder and a MVHR supplier.
The group includes students from Australia as well as New Zealand. "This mix has highlighted that we have it easier in New Zealand in some regards," says course leader Jason Quinn of Sustainable Engineering. "For instance, with window components, the Energy Standard and Passive House calculations use the same calculation methodology. Australians are stuck with different numbers for the same component."
Jason says the students are bringing excellent questions. "One of the Australians had been sold a line by a supplier. We were able to discuss the claims about the performance of an energy recovery ventilation system in an independent, expert, confidential space. It is not a good substitute for a heat recovery system in his climate. Good to clear that one up!"
All three of Sustainable Engineering's Passive House certifiers are involved with teaching the course and all bring stories of real-life solutions, problems and near-misses they've encountered.