Bushland Park set out to be New Zealand's first Passive House subdivision and builders Ethos Homes boldly built the first two homes on spec. The build went smoothly but the two homes' auction date coincided with a stalled housing market and a glut of ordinary but shiny homes coming up for sale in Christchurch. Since then, house prices have fallen nationwide, inflation and interest rates have rocketed and there's constant talk of recession.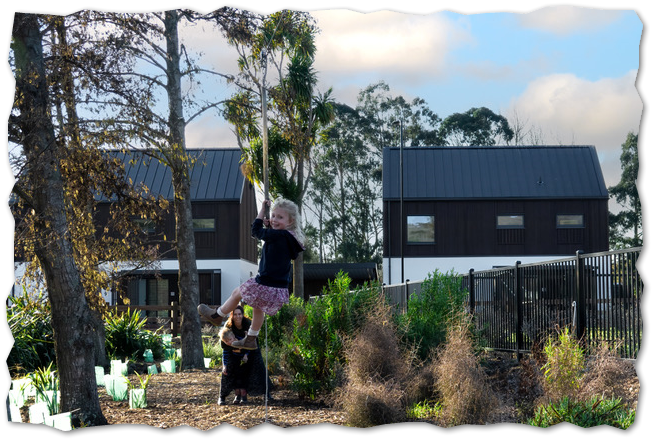 Given that daunting context, it's pleasing to hear that things have turned out alright. Ethos Homes belongs to Peter and Amanda Bielski, and they always intended to move into a home at Bushland Park. It just happened sooner than they expected, with their family moving into one of the already completed homes. The other has been bought by a family who moved from Auckland, after their efforts to build a Passive House home there were stymied. Getting their design priced and a contract signed turned into insurmountable obstacles. Amanda Bielski reports they are extremely appreciative of the care and attention to detail poured into their new home in Christchurch.
I was interested that the Bielskis themselves notice such a difference living in their certified Passive House residence, as Pete had carried out a deep retrofit for energy efficiency in their previous home. But as I always say, it's easier to build it right from the start than try to fix it later … 
I understand designer Karen Manson is working through design changes with buyers for a third home at Bushland Park. The biggest obstacle to the sale of the first two homes seemed to be the "no garages" (only carports) covenant. I'm sympathetic to the sentiment but it appears to be ahead of the market. 
Meanwhile, Ethos Homes have plenty to keep their staff busy, with three projects underway currently, including one targeting Passive House Premium, and more in the pipeline. It includes work on Paul Finch's house, the clerk-of-works who featured in this story from 2020. It's fitting that those who work so hard to get other people into high-performance homes get to enjoy the same comforts! Paul is blogging extensively on his Waikuku Beach project, and you can follow along on LinkedIn or Facebook. Sustainable Engineering is acting as certifier for this and other Ethos Homes' builds.