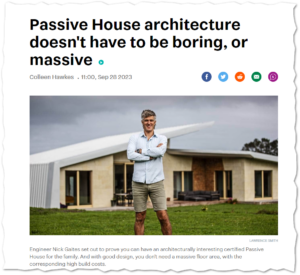 We hear that stories on homes built to Passive House standard are very popular with Stuff readers. Here's another well-written story about this family home in west Auckland, just completed but now on the market. Good to see Nick choose family life over his beautiful long-awaited Passive House. I'm looking forward to seeing his renovation project (read more about that here).
I'd love to hear the sales pitch from the real estate agents for this home. Will they will talk about the health benefits or thermal comfort of the home,  or if it will all be about the kitchen layout? What I learned from the overseas expert is to keep it simple when selling Passive House features. Focus on the direct benefits that certified performance delivers, such as a greater degree of comfort, health and resilience. We've noticed some real estate agents find it hard to resist technical words and phrases but it's better to talk about fresh, filtered air than get all geeky about continuous mechanical ventilation, for example.
For reference, a certified Passive House or similar has been valued at 2-6% more, and in at least one case in New Zealand, much more than that. This post on trends in valuing the extra benefits from certified performance is worth a read.
The more technical-focused Sustainable Engineering case study on the Muriwai Passive House can be read here.