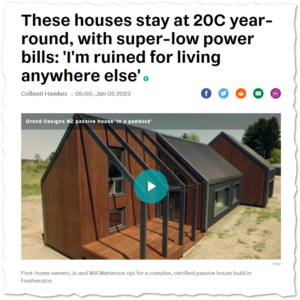 Stuff's focus on certified Passive House homes continues with a great round up by journalist Colleen Hawkes. She profiles her personal four favourite Passive House projects from 2022. Two are multi-unit developments.
I have to point out that the "biggest certified passive house in the Southern Hemisphere" isn't correct–not yet. The Lee family's home in Cockle Bay is still being built. First we build, then we certify. (Actually it's more accurate to say first we design and energy model, review, build and then complete certification.) The correct way to describe a project at this point is that it is targeting Passive House certification.
Below are the four projects that were featured. You can find full case studies written up for three of them on Sustainable Engineering's website. Publishing case studies and profiles of certified Passive House projects has been a labour of love and an offering to the Passive House community since 2019.