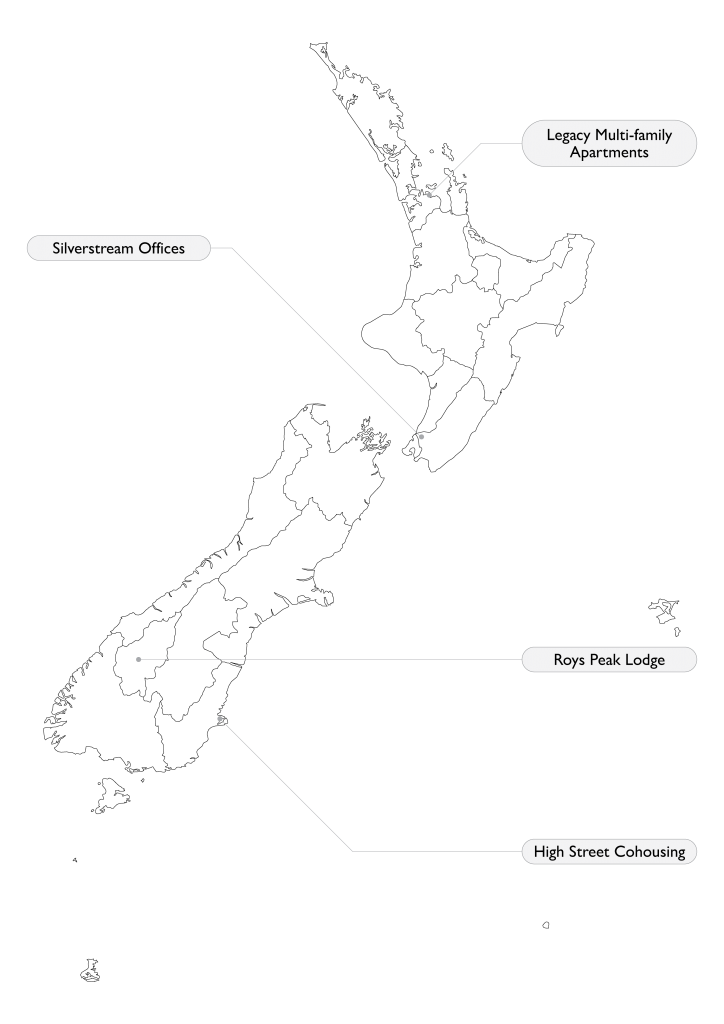 The next phase for Passive House in New Zealand
This year, 2019, could be a tipping point for building quality, health and performance in New Zealand. The pioneering phase for Passive House construction of single family homes is over. The technology, design and construction has been proven throughout New Zealand. Now it's time to apply all that has been learned to larger projects, like multi- family dwellings and commercial buildings. The case studies that follow highlight four different types of projects that are in the pipeline, from design to construction. Their owners, developers and design teams understand the value a Certified Passive House brings to their project.
All the components are now in place
Design teams. As 2019 begins, there are 26 Certified Passive House architects, designers and consultants from Auckland to Dunedin. That's a growth of 400 % in just six years.
Builders. Passive House certified builders have got their feet under them. Builders who have built their first couple of houses have the experience they need to confidently take on larger, more complex projects. Take Otago firm Stevenson & Williams Ltd: Master Builders since 1955, the firm has Legacy Multi-family Apartments pg 92 Silverstream Offices pg 94 High Street Cohousing pg 88 Roys Peak Lodge pg 90 84 85 successfully completed two Certified Passive House single-family dwellings in Dunedin and is now at work on a 24-unit cohousing complex (page 88).
Components. Back in 2011, the pioneering Passive House in Raglan (page 80) was plagued with delays because of the difficulties in sourcing key components like windows. All that has changed. If clients want European or locally made high-performance windows, there are options to choose between. More affordable New Zealand-made uPVC windows are now also available. Technological innovation continues at pace, with products morphing into systems that make construction faster and more resilient. Take Izodom's approach to insulated concrete forms (ICF): it doesn't just create highly insulated, durable walls but easily integrates with foundations and midfloors to eliminate thermal bridging.
Regulators. More planners and building inspectors in local government are familiar with Passive House methodology, recognise the quality of the build and its components and are supportive of its goals.
Economy of scale. Counter intuitively, the bigger the building, the cheaper and easier it is to reach Passive House performance levels. Multi- storey, larger volume buildings like apartments or office buildings have a lower form factor (page 34), so less insulation is typically required. This can simplify design details so that construction techniques are more like those used for conventional buildings. This reduces the learning curve for construction crews. The holy grail is certifiable Passive House performance that doesn't cost any more to build than conventional construction. This has already been achieved in the US and other markets. In New Zealand, commercial buildings or apartments will likely be the first projects to achieve this realisable goal.
All that is needed now is a wider understanding of the importance of quantifiable energy efficiency, health and comfort in our built environment—and the will to build it.
Not just a house "Passive House" is a direct translation of the German word Passivhaus, where haus means "building". In English, "Passive House" suggests a focus on residential homes, but this is misleading. Any type of building can and is being built to the Certified Passive House standard internationally: office buildings, kindergartens, supermarkets, apartment buildings, warehouses and factories.
Links to Case Studies: